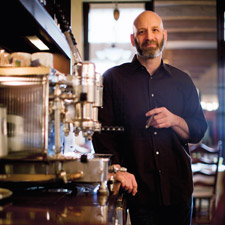 Chef Vetri discovered his love of cigars in the kitchen at the end of a long service when he would share smokes and stories with the other chefs.
Conducting a Culinary Symphony
Chef Marc Vetri Hits All the Right Notes in Philadelphia
(continued from page 4)
One thing Vetri recognizes is that eating in a restaurant is not just about the food. He understands that interaction between the chef and customers is vital, and that is apparent in both the new design—an open kitchen with the line near the tables—and the personalities of the chefs, all of them engaging the guests, sometimes quite raucously.
Vetri also ranks service as the primary challenge in his business.
"Service is more important than the food," Chef Vetri says. "I mean, I'm a chef. I should know how to cook." Vetri gives a lot of the credit to his partner Jeff Benjamin for making sure the service is hitting on all cylinders.
"Jeff Benjamin is the yin to my yang," Vetri explains.
In this case, "yang" is usually dressed in a manner resembling a construction worker or lumberjack. "Yin" seems most casual when his suit jacket is unbuttoned.
"Marc is the most honest person I've ever known," Benjamin says. "Diplomacy isn't his strong suit. If he disagrees with me, he might say, 'That's a terrible idea!' But you have to understand, it's never malicious.  Malice is the furthest thing from his mind."
Benjamin explains that Vetri has recognized the need to be a little more diplomatic in an age of social media. Especially in dealing with guests.
"We might have a guest who's unhappy with what we do," Benjamin says, "And Marc will respond, 'Well, we did what we said we would.' But being from a guest services background, I want to make the guest come back."
"Without Jeff Benjamin," Marc Vetri assures, "there is no Vetri Family."
"Vetri Family" is the umbrella name given to the restaurants and the Vetri Foundation for Children, of which Benjamin and Vetri are founders and board members. Osteria's chef Jeff Michaud is a board member. The mission of the foundation "is to support the development of healthy living habits and styles in young people."
You must be logged in to post a comment.
Log In If You're Already Registered At Cigar Aficionado Online