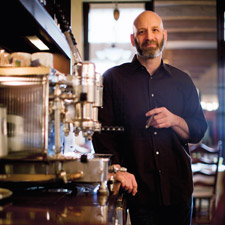 Chef Vetri discovered his love of cigars in the kitchen at the end of a long service when he would share smokes and stories with the other chefs.
Conducting a Culinary Symphony
Chef Marc Vetri Hits All the Right Notes in Philadelphia
(continued from page 3)
But before they leave, they cook at Vetri, the first restaurant, which has morphed from a casual Italian restaurant to a fine-dining, $135-per-person tasting menu.
"This is where people come for a special occasion," Marc Vetri says. "Or to try something new." Like pastrami foie gras. Or chestnut fettucini with boar and cocoa. Perhaps a Texas antelope with squash and Amarone sauce?
"We started offering the tasting menu a few years ago on Saturday only and we'd be booked in five minutes," Vetri explains. "So, we just put it in all the time."
When Chef Adam Leonti arrives at Vetri restaurant one morning, he and Marc Vetri bump fists.
"Chef," Vetri greets Leonti, who just keeps walking into the kitchen he now runs, without a word. Chef Vetri pitches in when he cooks three or four nights a week.
"I start here," Vetri says. "Then I might walk down the street to Amis [restaurant number three] and see what's going on and then I might get a call to go over and help at Osteria because they're getting slammed."
Not being in the kitchen every day was a big change for Marc Vetri. Many restaurant critics who had come to recognize the high level of culinary accomplishments of the Vetri restaurant expressed concern that the quality of the food would falter. It hasn't.
"The myth that you can't run multiple restaurants is just that," argues Vetri, who has since opened a fourth restaurant, a gastropub called Alla Spina or "From the Tap."
Much like a symphony, Vetri's is an extended culinary composition.
"If you've got the right people, you get the opportunity to step back and see things you couldn't see before. My role has changed. I'm now the conductor."
You must be logged in to post a comment.
Log In If You're Already Registered At Cigar Aficionado Online