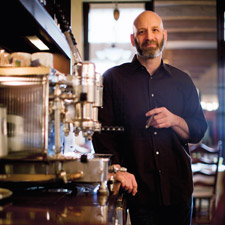 Chef Vetri discovered his love of cigars in the kitchen at the end of a long service when he would share smokes and stories with the other chefs.
Conducting a Culinary Symphony
Chef Marc Vetri Hits All the Right Notes in Philadelphia
(continued from page 2)
During his four years in California, Vetri learned to smoke cigars.
"And when I smoked my first Fuente Hemingway, that was it," Vetri smiles, recalling discovery of his favorite cigar. "I like smaller cigars because I still get a little dizzy if the cigar is too big."
Vetri also smokes Ashton, La Gloria Cubana and Cuban Montecristo No. 2 cigars. Vetri's favorite occasion for a cigar is with his father, Sal.
"We just walk around Philadelphia and talk about things and enjoy the cigars. I'll smoke maybe one a week now because of the demands on my time, but I can have periods when I'll smoke three or four days in a row," Vetri says. "Then, when I'm really busy, I just don't have the time to enjoy a cigar."
While in Los Angeles, Vetri met Piero Selvaggio, the owner of Valentino and a friend of Puck. Selvaggio arranged for Vetri to go to Bergamo, Italy, as a stagiare, or apprentice, so that Vetri could learn Italian cooking at the source.
"It's completely different in Italy," from, say, France, Vetri explains. "You get to touch everything. Italian chefs are very collegial. They're like, 'Hey, come here, look at this.' And they also want to learn from you. At the end of the night, I would sit with the chef and smoke a cigar and we would talk about everything."
For Chef Vetri, even as his interests have broadened and his own life has become more complex, simplicity is a guiding principal. His recipes are clean and generally robust. Very Italian, but not traditional Italian-American. A relatively experienced palate can discern the seasonings in the cotechino sausage on, say, the Lombarda pizza at Vetri's second restaurant, Osteria.
"I need to know all my scales," Vetri says, comparing cooking to playing guitar, which he still does every day. "But I would choose to play something in three notes rather than 30."
That approach is evident in the way Vetri and his team cook. Vetri's experience in Italy has clearly influenced how he develops his chefs, even sending them to Italy to learn.
"I still expect them to touch everything, to slice their own fish and do some of their own prep," Vetri explains, standing in the kitchen. The advantage of that approach is that the chef knows the quality of every ingredient. "Every chef who has been at Vetri for two years or more and has left, has gone on to open his own restaurant."
You must be logged in to post a comment.
Log In If You're Already Registered At Cigar Aficionado Online