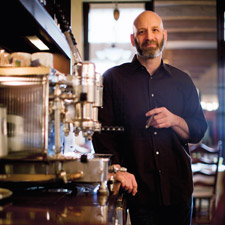 Chef Vetri discovered his love of cigars in the kitchen at the end of a long service when he would share smokes and stories with the other chefs.
Conducting a Culinary Symphony
Chef Marc Vetri Hits All the Right Notes in Philadelphia
(continued from page 1)
"You know, you have to have that tension on TV to make the show interesting," Vetri explains. "In reality, chefs are much friendlier with one another and share a lot of things. I mean, Michael [Symon] and I were hugging on Iron Chef. Whenever I cook with Mario [Batali] and other chefs," like at a charity event, "the media asks me if we were fighting for space in the kitchen. And that's not at all how it is. We're helping each other and we're always asking each other to taste things."
Vetri allows that in the not-too-distant past, and to a degree today, chefs were more competitive. Now, he sees the bigger problem in the profession being with chefs who graduate culinary school and "maybe go to learn something in France or Italy or Spain and come back and think that because of that, they know everything."
"But what they learn is technique," Vetri says, "And that's important, but you also have to understand flavors and how to taste."
"We had a corn flan on the menu," Vetri recalls, describing an incident in his own restaurant. "One day I come in and taste it and it tastes like nothing. I asked the person who made it what happened. 'How did you make this?' He said that he followed the recipe. I asked if he had tasted the corn. He said he hadn't. So, I took an ear of corn and told him to taste it, then I asked him what it tasted like. 'Like nothing,' he told me. That's why the flan tasted like nothing."
"I had to work harder than a lot of people because of my stutter," Vetri explains matter-of-factly referring to the condition he's had since childhood. "Having a stutter made me both more compassionate and less compassionate. I could understand if someone had a handicap, what they were going through. But I also knew that if you worked hard, that you could overcome the problem. I was less compassionate sometimes because I would not accept excuses."
Vetri acknowledges the stutter was a factor in not pursuing TV.
"I think that the impact my stutter had was to lead me to choose being a chef, in the kitchen, because that way I wouldn't have to talk to anyone. And it turns out that now," because of the book and his public appearances and the work done through the Vetri Foundation, "I have to talk more than in maybe any other profession."
Vetri made the decision to become a culinary professional after going to Los Angeles to become a rock star. That was 1990.
Vetri, who had worked in restaurants around Philadelphia since the age of 13, landed a job in Wolfgang Puck's now defunct Malibu restaurant, Granita. Some days Puck, probably the first real modern-day celebrity chef, would be working next to Vetri at the pasta station.
"Wolfgang still loves to cook," Vetri says.
You must be logged in to post a comment.
Log In If You're Already Registered At Cigar Aficionado Online