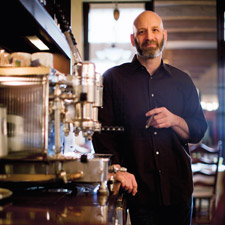 Chef Vetri discovered his love of cigars in the kitchen at the end of a long service when he would share smokes and stories with the other chefs.
Conducting a Culinary Symphony
Chef Marc Vetri Hits All the Right Notes in Philadelphia
It was tough," Marc Vetri explains to his assistant with an air of relief and weariness. "We scored only once."
On the morning after Thanksgiving, Vetri, the owner of three Philadelphia restaurants, was telling Carolyn Pagnotta about the hard-fought Thanksgiving flag football game, the "Turkey Bowl." For the third time in four years, Vetri's restaurant group beat the team of Jose Garces, a fellow Philadelphia restaurateur who is also an "Iron Chef" on the Food Network. The silver trophy, a football with turkey wings and drumsticks, will stay with the "Vetri Family."
Vetri had just gotten back from Los Angeles, Chicago and New York promoting his second cookbook, Rustic Italian Food, a sort of narrative of how Vetri's culinary philosophy has evolved. Vetri, whom everyone—EVERYONE—describes as a "mild-mannered, nice guy," is a chef intensely focused on his craft, but not captive to it.
A 42-year-old, yoga-practicing, guitar-playing, cigar-smoking, philanthropic native of Philadelphia, Vetri, married with three children, was born to an Italian father and Jewish mother.
"There's a lot of us around," he chuckles. He swipes his arm across the table as if to clear it and explains that when it came to food, he chose to "keep the Italian and not the Jewish."
As the saying goes, Marc Vetri might be "the best chef you never heard of." He is a culinary master whose "mothership" restaurant, Vetri, was again nominated for a James Beard award in 2011 and 2012, both times as "Outstanding Restaurant" in the nation.
Restaurant critics and super-celebrity chefs like Bobby Flay, Michael Symon and Mario Batali, in one way or another, have called him the "best Italian chef in America."
In October of 2010, Vetri appeared in "Battle Veal" against Iron Chef Symon on the Food Network. The two have known each other for years. Vetri bested Symon by a score of 51 to 47.
Vetri has been invited to be on shows like the Next Iron Chef and though he has wondered whether he shouldn't have more vigorously pursued the TV celebrity chef thing, he ultimately felt it wasn't a good fit.
"The thing about these reality shows is that they're not really real," Vetri says while sitting at his namesake first restaurant, opened in 1998 in the same building that housed the original iteration of Philadelphia's iconic French restaurant, Le Bec Fin. Vetri didn't reveal any trade secrets about the way Iron Chef conducts its culinary confrontations (let's just say it's not all that spontaneous). He was just referring more to the way the TV shows portray chefs as combatants.
You must be logged in to post a comment.
Log In If You're Already Registered At Cigar Aficionado Online