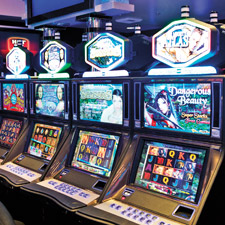 21st Century Slots
High-def video and digitized interaction bring slot machines to the next generation
(continued from page 2)
The first slot machines date back to the late 1800s. They were primitive beasts, made of steel and purely mechanical—but still perfectly adept at beating gamblers out of money. On the East Coast, in Brooklyn, New York, a machine was devised with five reels that were loaded with playing cards and they spun out poker hands. Because there was no mechanism for making cash payments based on the myriad number of hand possibilities, the machines (which were usually in saloons) paid out in the form of beers or sandwiches or cigars.
To cut down on potentially winning hands, the bars' proprietors usually removed the 10 of spades and the Jack of hearts. Simultaneously, on the West Coast, in San Francisco, another inventor came up with a machine that simplified the process by replacing all those playing cards with five different symbols, which made the payouts easier for the machines to negotiate.
Things were going great, with demand for the so-called one-armed bandits on the rise, production increasing into tens of thousands of machines annually, and bar patrons enjoying the thrills of financial risk. Then the government clamped down and deemed the gambling machines illegal, which sent bar owners back to offering sandwiches and cigars to lucky customers. When prohibition hit, the machines went into speakeasies, where they were once again put to illegal use and paid out in cash.
In 1931, when the state of Nevada legalized gambling, most of the machines were shipped out west. They were popular, but far from an immediate hit. "Table games generated more money than the machines back then," says Marshall Fey, author of Slot Machines: A Pictorial History of the First 100 Years of the World's Most Popular Coin-Operated Gaming Device. "It wasn't until the 1970s, when mechanisms in the machines allowed them to offer larger jackpots, that slot machines got a lot more popular."
These days, a half-dozen or so companies are embroiled in a battle for the hearts, minds and wallets of casino customers. Continuing my stroll through the Borgata, I see that the days of slot machine play as an isolating experience are winding down. Sure, there are plenty of people sitting a respectful distance from their neighbors, grimly pumping funds into machines while pulling levers or punching buttons. But, more and more, I'm also noticing banks of machines, loaded with fast friends who are communicating, sharing knowledge, rooting each other on in the way that they do at a blackjack table. "We're designing machines to change the physical experience," says Satchell. "You play as a group. You're social. You're all engaging in the same activity." The thinking is that it will make slot play more enjoyable and, of course, more profitable.
That's definitely happening at a machine called Dark Knight, themed for the Batman movie franchise, and designed so that if one player hits a bonus all the other gamblers playing at the same time are suddenly in bonus territory as well. Players sit on comfy seats outfitted with speakers that create a cinematic rumbling effect whenever the Batmobile takes off. Watching his wife and a couple of friends playing, an ex cop by the name of Jerry gushes, "I played this last night. Now I'm hooked on it. My wife hit it for $331; we want to do it again!" He'd like to keep on talking, but a buddy of his has just hit a bonus and Jerry's suddenly cheering the guy on.
This is exactly the response that game designer Chris Satchell has been angling for. But he's already making a move to take it further. He wants players to bring their casino experiences home. In January of this year IGT purchased Double Down Interactive, a virtual-currency casino on Facebook. "It allows the company to put its slot games online," says Satchell. "This gives us another channel for our content. It also opens up the possibility for you to find out about a game online, try it for free and eventually play it in a casino."
Beyond the fact that IGT is setting itself up for the day when all forms of online gambling will be legal, the Double Down project also pushes things forward in another way. Satchell envisions a time in the near future when his customers will be interacting online together, sharing experiences, communicating with each other and with IGT, forming communities of slot lovers who inadvertently promote the machines.
Beyond that, looking into his crystal ball, Satchell sees a future where slot machines continue to become increasingly unlike slot machines to the point that they are almost unrecognizable. "I think about meta games," he says. "Imagine we both go to a casino on a Friday night and a window pops up on all the machines, stating there will be a red vs. blue tournament. You're randomly assigned to the red team or the blue team, and if you're on the team that gets the most cumulative points you get some kind of a bonus. That will make you want to play. We'll keep pushing the entertainment capabilities. There will be new forms of interactivity and play mechanics that will seem like nothing out there right now. And you'll be able to experience it on any end point you want." He hesitates for a beat, then adds, "It will blow you away."

Michael Kaplan is a Cigar Aficionado contributing editor.
You must be logged in to post a comment.
Log In If You're Already Registered At Cigar Aficionado Online