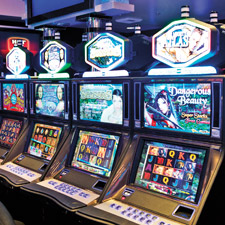 21st Century Slots
High-def video and digitized interaction bring slot machines to the next generation
(continued from page 1)
Satchell's brief has been to deliver the elevated experience that a casino's best customers desire. "I wanted to bring the techniques and technologies from video games, which are ahead of the curve of casino gaming machines," he says. "We now have a new generation of game development platforms that use the same processes and cutting-edge technologies as video games. We use the same production methodology. We use the same high-end graphics, real-time animation and high-end movies."
Bringing the aesthetics and play of the machines up to speed had been done with relative ease, usually by following the computer-game approach. But, considering why these machines exist in the first place, there is a trickier challenge as well. "We also have to have complex math models that are unique to gambling," says Satchell, meaning that he and his colleagues need to slice and dice odds to make proper payouts and to account for the amount of time that players spend on the machines per hour. "If you look at our technology, it stacks up similarly to what the computer gaming companies are doing. We are catching up to them. On top of that, we do stuff that the computer-game engineers would never comprehend. The math model behind the modern-day slot machine is what people from the video game business remark on. They see it and surprise themselves by saying, 'This is really complicated. More so than I thought.' "
Satchell has been a major driving force behind the transformation. He's developed groundbreaking games and watched his competitors do the same. Bally has come up with a gambit in which players touch the screen and spin a virtual wheel. Williams has a Monopoly machine where players feel as if they are rolling actual dice. G2 Game Design has devised a slot machine based on the TV show "Pawn Stars." It uses complex algorithms that allow you to negotiate the number of winnable credits.
Other machines have volatility options that give players a high probability to win small jackpots or small probability to win large ones (the casino doesn't care; either way, it still gives out the same percentage of money based on how much is put into the machines). Roulette with a real, but automated, wheel is out there; and so is a craps game that incorporates bonafide dice under glass.
One breaking aspect, which helps bring casino-game technology into the modern realm is the incorporation of skill elements—or at least the illusion that skill translates into significantly increased revenue for winning players. "We're focusing on changing the physical experience," says Satchell. "For example, there's a game called Buck Hunter where you get a rifle and shoot at targets. The amount of money you get rewarded is random, but you receive points for hitting targets. For another machine, Reel Edge, we licensed the game Centipede. Get to the bonus-round and you play an arcade game that gets you more money if you play the game well. That makes it closer to video poker and gives you a way to interact with it."
Where video poker is concerned, IGT recently introduced a game changer. Ordinarily, when you play video poker you do not play against the machine so much as you play against the pay schedule. You get dealt cards and go for certain hands. There are some optimal moves, but they resemble basic strategy in blackjack. You do what's statistically correct in a static situation and hope that the cards fall your way. Then you get specified amounts of money for hitting certain hands, usually from a pair of Jacks up to a royal flush.
IGT's blandly monikered Texas Hold'em Heads Up Poker, on the other hand, is extraordinary for a few reasons. Immediately noticeable is that the house has no discernable advantage. There is no rake (a percentage of every pot taken by the casino, as is the case with games dealt in the poker room) and no fixed odds for the player to go up against. It is a game of mano a machina heads-up, limit hold'em poker. You play against a bot loaded with artificial intelligence. Short of the machine getting the dealer's button first, it has no obvious advantage. And the stakes are no joke. In Aria's high-limit slots room, you can play for as high as $200/$400.
Seemingly, the casino is taking a chance, betting that its bot is better than your brain. Considering all the machines with odds pre-rigged against players, you wonder if it's worthwhile for casinos to bother. I pose the question to a slots boss at a casino in a jurisdiction where the game has not yet been approved. He looks out at an ocean of machines, all carefully calibrated to set amounts of payoff with nary a risk, and replies, "What do you think?"
Obviously, he's not crazy about the notion of taking any potential downside. David Sklansky, a notoriously brainy poker pro and author of books such as The Theory of Poker and Getting the Best of It, sees the machine as being tougher than the slots boss might think. "What's interesting is that not only does the machine beat almost everybody, but it has been programmed in a way so that its strategy will win regardless of how you play. It beats people who play tight and people who play loose. It does things at the right ratio to keep from being exploited."
Sklansky finds the machine tough enough that it's not worthwhile for him to put in a whole lot of time playing against it. "I've been told that it has a few different playing personalities and it switches them," he warns. "So if you think you have a line on its personality"—and style of play—"you will be disappointed."
You must be logged in to post a comment.
Log In If You're Already Registered At Cigar Aficionado Online