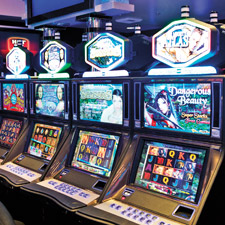 21st Century Slots
High-def video and digitized interaction bring slot machines to the next generation
Michael Ordille remembers the first time he realized that "Sex and the City" was big beyond cable TV and the movies. He was at the Hard Rock Hotel & Casino in Las Vegas for the debut of a "Sex and the City" themed slot machine. The names and likenesses of its stars had been licensed by IGT, one of the casino industry's leading makers of gaming devices and the company for which Ordille works as an account manager. The actor who portrayed Mr. Big was on hand to juice up the event, and the Hard Rock was hoping to snag some local press. A ribbon-cutting ceremony ensued. It was followed by a rush of would-be Samanthas overtaking the machines.
The women couldn't get their money in quickly enough, but something else went down. "What really surprised me were the 20-something males who sat down to play," says Ordille. "I thought that the machine would have been for middle-aged women. But these guys knew that the females were playing and it drew them. Plus there are lots of bonuses and clips."
That scenario is one example of the new reality that slot machines are no longer, well, slot machines. "You need to have a sense of style for the new demographic," says Chris Satchell, chief technology officer at IGT. "Then you add a social component online and it helps the experience. Suddenly casino gaming is matching other entertainment forms."
Casino executives sense transformation in the air. "There is a heightened sense that something different is going on," says Mike Volkert, vice president of slot marketing and operations for Aria Resort & Casino in Las Vegas. "The way people spend their time with entertainment is changing, and we're all looking at how to use those changes to interest our gamer of the future."
From the casino's most base perspective, Sex and the City functions like a standard, three-reel machine: It pays off a certain percentage of the money put into it and the rest is reserved for the house. However, from the player's point of view, it offers more. There are high-definition visuals, instantly recognizable sound effects, a touch screen, familiar clips from the HBO show and bonuses that are the next best thing to shopping for a new pair of Manolo Blahniks. On a recent evening at the Borgata Casino & Spa in Atlantic City, it was standing room only around the machines. Jersey girls use elaborately manicured fingernails to punch buttons; they sit on the edges of their seats and high-five one another when bonuses kick up. A clutch of young men railbird the action, and it's easy to guess that they wouldn't mind jumping in.
If slot machines were once targeted at old ladies holding plastic cups full of quarters, Sex and the City, which hit casinos two years ago, has heralded a new age. "Your average slot player now is somebody who was weaned on Xbox and Sega Genesis," says Tim Burke, vice president of slot operations at Borgata. "They loved it then, and now they want products that feel fresh. It used to be husbands playing table games and wives playing slots. Now they're all on the machines together."
The newest offerings comprise a flashy, splashy, high-concept pack aimed at a new generation of machine gamblers who text
between spins and want to brag about their winnings on Facebook. Underscoring Burke's assessment, the fresh flock of machines attract guys who can't resist dumping money into computer-chipped boxes that allow them to remember playing Battleship (yes, a machine is based on the 1967 board game) and relive moments of The Hangover while providing opportunities to win money. It's a hoot and a way of bringing larger-than-life aesthetics onto the casino floor. In the new Godzilla machine, for example, the Japanese monster breaks through the third wall and expands beyond the glass in front of the machine to the big video display above it. And its three-dimensional graphics have become the norm rather than an eye-catching exception.
If the new generation of slot machines seems increasingly like computer games, that is no coincidence. Companies such as Williams, Bally and Interblock have poached designers from the world of computer gaming. This is most evident at IGT.
Satchell was lured in from Microsoft where he had previously worked as the interactive entertainment business CTO for Xbox. "People used to be happy just to come into the casino and do some form of gambling as entertainment," says the goateed and buzz-cut Satchell. "But now they are exploring all kinds of media; they are digital everywhere. They're wondering why they shouldn't be digital in the casino. They are wanting more and more."
Those desires should not be taken lightly. Says John Grochowski, author of The Slot Machine Answer Book, "I'm seeing that gaming devices account for more than 80 percent of casino revenues."
You must be logged in to post a comment.
Log In If You're Already Registered At Cigar Aficionado Online