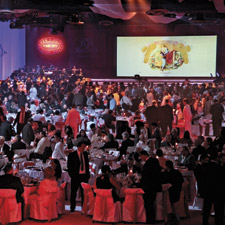 The XIV Festival del Habano attracted more than 1,000 cigar lovers from 70 countries.
Cuba Throws a Party for Romeo y Julieta
With a backdrop of writhing dancers and fierce drumbeats, the Cuban cigar industry held its annual celebration, the Habanos Festival. We relate the festivities as well as the best of the new smokes that debuted.
(continued from page 1)
The dinner concluded with an auction of six cabinet humidors, each representing a major brand of Cuba, each stuffed with hundreds of cigars, including rarities such as the H. Upmann No. 3, a size last made in the 1970s, the Romeo y Julieta Selección De Luxe, which was last made in the 1960s, and Cohiba Petit Robustos, special sizes that are not part of the Cohiba portfolio. Cigar historian Simon Chase of the United Kingdom served as auctioneer, and each of the lots commanded an impressive sum, fetching a combined 730,000 euros ($970,000) for Cuba's ministry of public health.
You may have to wait a few more months until you begin seeing the first of these new cigars on sale. The first batch of 2011 Edición Limitadas didn't get to cigar stores until the end of August, and it wasn't until December that Montecristo Gran Reservas—the star of the 2011 Habanos Festival—hit the market. You'll read the first blind tastings on the cigars in an issue of Cigar Insider.
Comments
1 comment(s)
Wayne"Violator" Mabry — Moreno Valley, California, — March 6, 2013 2:21pm ET
---
You must be logged in to post a comment.
Log In If You're Already Registered At Cigar Aficionado Online