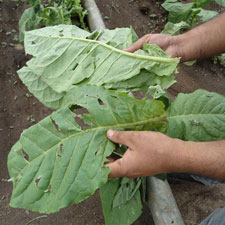 A worker holding tobacco ruined by a weekend hailstorm in Jalapa, Nicaragua.
Hailstorm Savages Padrón Tobacco Field
A hailstorm in Nicaragua turned a crop of tobacco destined to become Padrón cigars into a tattered mess.
The storm struck Saturday in Jalapa, Nicaragua. The field of tobacco was supposed to become wrappers on Padrón 1964 Anniversary Series and other cigars. But the hailstorm peppered the plants with holes, rendering them useless for wrapper.
"It destroyed practically the entire crop of what was left," said Jorge Padrón, president of the Miami-based company, which makes all of its cigars in Nicaragua. Some of the tobacco had recently been planted, and was small, while many of the plants had been partially primed of their leaves.
The hail put holes in the plants that were in the fields, making some look as if they had been blasted by a shotgun at far range.
Leaves with this type of damage cannot be used as wrapper or binder, and there is so much damage that it's unlikely that much of it can even be used as filler tobacco. "It looks like 90 percent of it is gone," said Padrón. "There is very little that will be salvageable from this crop."
The damage was only to the tobacco in the fields. Leaves that had already been primed and brought into the curing barns were unaffected.
The loss will not have an immediate impact on Padrón cigar production. "Our crops are still years away from being used," said Padrón.
Padrón said that he and his 86-year-old father, a man who has been working around tobacco nearly his entire life, had never seen this type of damage in a tobacco field. "This has never happened to us before," said Padrón. "It just further emphasizes how fragile this whole manufacturing process is."
Comments
6 comment(s)
Jeremiah Wood — Athens, GA, — April 24, 2012 5:57pm ET
---
Steve Pierce — April 24, 2012 6:30pm ET
---
Kyle Trahan — Abbeville, LA, U.S.A., — April 24, 2012 8:56pm ET
---
David Savona — April 24, 2012 9:57pm ET
---
joseph bertoni — irwin, pennsylvania, united states, — April 25, 2012 2:36pm ET
---
JONATHAN DREW — NEW YORK, NY, UNITED STATES, — April 28, 2012 11:24am ET
---
You must be logged in to post a comment.
Log In If You're Already Registered At Cigar Aficionado Online