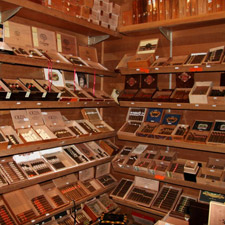 V Cut's humidor is full of the great cigars you'd expect to find in a metropolis.
V Cut Cigar Lounge, Los Angeles, California
(continued from page 1)
"Use a real lighter," I say. He allows me to light what remains of his cigar and smiles, seemingly happy to be gently chided for his bad luck with fire on this day.
The other distinction is that V Cut has parking! This is particularly valuable on the nights that live jazz is featured in the lounge.
"We have live jazz about once a month, on Wednesdays," Ahmadi explains. "We get a big crowd on those nights."
If you live in L.A. or just happen to be visiting, you'll experience some kind of bad traffic during some part of your day. Some of us have created a set of way-stations where we can stop and chill out until the traffic subsides. Sometimes it's a bar or coffee joint. Now, though, I've got a series of cigar-friendly spots about five miles from one another that, if I need to take a break, welcome my visit.
And yes, they all have Wi-Fi.
Alejandro Benes lives and works in Southern California and is NOT writing a screenplay.
V Cut Smoke Shop & Lounge
8172 Melrose Ave
Los Angeles, CA 90046
(323) 655-5959
www.thevcut.com
Mon thru Sat: 10 a.m. - 10 p.m.
Sun: 11 a.m. - 8 p.m.
Comments
2 comment(s)
GREGORY HAYES JR — LOS ANGELES, CA, UNITED STATES, — April 24, 2012 8:56pm ET
---
Bruce Nahin — April 27, 2012 5:21pm ET
---
You must be logged in to post a comment.
Log In If You're Already Registered At Cigar Aficionado Online