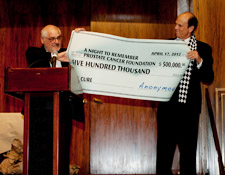 Photos/Jonathan Lockwood Smith
Shanken and Milken display a check for $500,000 to fight prostate cancer.
Night to Remember Charity Cigar Dinner Raises More than a Million Dollars
(continued from page 1)
An all-inclusive vacation with premium airfare to Casa de Campo to play two rounds on Pete Dye's renowned Teeth of the Dog course went to David Nolan of Millennium Management for $20,000. The lot also included a handcrafted humidor with the first production of 100 cigars of the Montecristo #2 New York Connoisseur Edition and was provided courtesy of Javier Estades of Altadis USA.
Jorge Padrón, of Padrón Cigars, Marvin R. Shanken, editor and publisher of Cigar Aficionado, and Chuck Wagner of Caymus Wines.
Milken, himself, took the third, a collection of the world's finest wines donated by Chris Adams, CEO of Sherry-Lehmann, for $28,000. The wines all rated between 95 and 100 points in
Wine Spectator
, including three with perfect ratings.
A bottle of 44-year-old Gold Bowmore single-malt Scotch whisky, distilled in 1964 and donated by Gerry Ruvo, CEO of Campari, made up the next lot and was also bought by Nolan, this time for $10,000. NetJets provided a five-hour flight package in a Cessna Citation Sovereign as the next lot, which was snapped up by David Trone, a founder of Total Wine & More.
A smoke to remember: (seated left to right) Chris Adams, of Sherry-Lehmann, Pierluigi Tolaini, Wayne Suarez of Tabacalera A. Fuente y Cia; (standing left to right) Ernesto Perez-Carrillo Sr. and Jr., of EPC Cigar Co., Stan Shuster, of the Grand Havana Room, Lee Einsidler, of Sidney Frank Imports and Gordon Mott, executive editor of Cigar Aficionado.
Rocky Patel Premium Cigars offered a day with its founder and namesake as the sixth lot, which also included 266 cigars and a round of golf at Old Corkscrew in Naples, Florida, with three suites at La Playa Beach and Golf Resort. It was taken by Rudy Giuliani, the former mayor of New York City, for $12,000.
Lot seven, donated by Larry Schwartz, president of Diageo North America, was a special tasting with a Master of Whisky and 20 guests at the winner's home to sample the Johnnie Walker portfolio of the Blue, Gold, Green, Black and Red Labels. The chairman and CEO of the Charmer Sunbelt Group Charlie Merinoff took the lot for $18,000.
Another golf package, this one a five-day stay for two at The Breakers in Palm Beach with unlimited golf at its two courses, plus a selection of 288 cigars from Ashton, was donated by David Burke, vice president of the resort, and Levin of Ashton. Levin took home his own prize for $18,000.
Suzanne, Robert and Sathya Levin (left to right) of Ashton keep a watchful eye on the auctions.
Lot nine was an evening of opulence at New York's Club Macanudo for 100 guests, including wines, spirits, hors d'oeuvres, dessert and entertainment as well as 340 cigars. Dan Carr, president of the General Cigar Company, made the donation, and it was bought by Wood for $20,000.
Jim Clerkin, president of Moët Hennessy provided lot ten, five days of golf and single-malt Scotch with Glenmorangie. Gelband and three of his guests will tour the Highlands distillery as well as other points of interest and play two rounds of golf. The package, which went for $32,000, also includes six bottles of Glenmorangie, including a 25-year-old and the new expression Artein.
David and June Trone of Total Wines & More with former mayor Rudolph Giuliani (left to right).
The chance to jump the waiting list for the Els for Autism Charity Pro-Am Golf Tournament was offered up in the 11th lot. The winner—Milken—and his guests will play in the tournament and attend the pairings dinner with such golf standouts as Ernie Els, Gary Player and Jack Nicklaus. The money raised—$25,000—will go to the autism charity.
Exclusive membership at the Grand Havana Room in New York and Beverly Hills, courtesy of its president Stan Shuster, was the basis for the next lot, which also included a dinner for eight with wines donated by Shanken and his wife, Hazel, and a box of Fuente Fuente OpusX cigars. William Sherman, executive vice president of Nat Sherman, bid $22,000 to join the cigar club.
You must be logged in to post a comment.
Log In If You're Already Registered At Cigar Aficionado Online