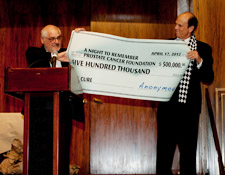 Photos/Jonathan Lockwood Smith
Shanken and Milken display a check for $500,000 to fight prostate cancer.
Night to Remember Charity Cigar Dinner Raises More than a Million Dollars
Michael Milken, founder and Chairman of the Prostate Cancer Foundation, predicted a cure to the disease by 2016 Tuesday night at the 18th A Night to Remember. Then the crowd of about 190, led by the host as well as editor and publisher of Cigar Aficionado Marvin Shanken, did its best to make it come true, raising more than a million dollars for research.
The dinner event lived up to its name by giving cigar-loving guests an elegant venue—New York's legendary Four Seasons restaurant—to indulge in a fantasy selection of premium smokes. The auction included 14 lots of incomparable cigar, wine, spirit, golf and travel packages. Furthermore, an anonymous donation of $500,000 got the fundraising off to a brilliant start.
As usual the event opened with a cocktail party in the restaurant's Grill Room, where guests were treated to a selection of donated cigars, including Aging Room, Arturo Fuente Don Carlos, A. Turrent Puro Corojo, Casa Magna Colorado, Davidoff, Diamond Crown Julius Caeser, E.P. Carrillo Maduro, My Father Le Bijou 1922, Gurkha Cellar Reserve, Hoyo de Monterrey Reposado en Cedros, La Flor Dominicana El Museo, La Palina El Diario, Montecristo New York Edition, Nat Sherman Timeless Collection, Padilla Artemis and Studio Tobac Figurado, Oliva Serie V Maduro Especial, Padrón 1964 Anniversary Maduro, Partagas 1845, Rocky Patel Decade and Fifteenth Anniversary, Romeo y Julieta Cabinet Selection, Tatuaje La Vérité Vintage 2009 Cabinet and Zino Platinum Crown Series Barrel. Moët & Chandon Brut Champagne Impérial NV was poured for the smokers.
Fine dining: (seated left to right) John Salley, Wagner, Michael Milken, Hazel Shanken, David and June Trone; (standing left to right) Mayor Rudolph Giuliani, Shanken and Rush Limbaugh.
The event began in earnest in the modernist Pool Room where guests sat down to a lavish dinner that started with hors d'oeuvres and an outstanding wine: M. Chapoutier Crozes-Hermitage White Les Meysonniers 2010 (rated 92 in
Wine Spectator
).
Shanken announced the anonymous donation and introduced Milken, who briefed the crowd on the recent strides taken in the fight against prostate cancer. Four new therapies have been developed in the past year, many of which have no side effects, he said.
Milken added that a simple urine test is being promoted to diagnose the disease, and soon we will live in an era of personalized medicine when doctors will be able to customize treatment, knowing in advance how patients will react to medicine.
Rafael Nodal of Habana Cuba Cigar Company and Ricky Rodriguez, Victoria McKee and Michael Giannini (second through fourth from left), all of General Cigar Co.
In a tradition of the evening, Shanken offered five bottles from his own cellar that were presented for auction wrapped in paper bags. "It could be Riunite or something good," he joked to the potential buyers. Diners were also reminded that part of the ritual was that buyers were expected to open the bottles on site and share them with their tables.
The first bottle, a Château Margaux 2000 vintage, which rated 100 points in Wine Spectator, went for $18,000 to broadcaster Rush Limbaugh. The next, a Château Latour 1990, which was the magazine's wine of the year and was also a 100-point wine, went for $14,000 to the beverage and gaming magnate Tom Celani. Another Wine Spectator 100-point wine, a double magnum of Château Mouton Rothschild 1989 fetched $22,000, selling to Robert Levin, president of Ashton Distributors.
Larry Schwartz, president of Diageo North America, with Ivan Menezes, COO of Diageo PLC.
A Château Haut-Brion 1990, ranked 98 points by
Wine Spectator
, brought $25,000 and went to Pierluigi Tolaini, who owns a Canadian trucking company. Shanken unwrapped the last bottle offered, a 1927 Taylor Vintage Port that sold for $22,000 to Michael Gelband of Millennium Management, and announced it as "the vintage of the century—priceless!"
In a change from protocol the 14 lots described in the event's catalog were all auctioned before dinner began. The first lot—two limited-edition humidors each containing 100 cigars from the Padrón Millennium Series from the year 2000 donated by Padrón Cigars—was won by the attorney Doug Wood for $41,000.
You must be logged in to post a comment.
Log In If You're Already Registered At Cigar Aficionado Online