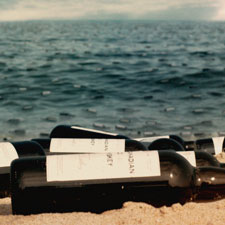 Bottles of Canadian whisky wash ashore in the opening credits of HBO's "Boardwalk Empire."
Oh, Canada! A Look at Whiskies from The Great White North
(continued from page 1)
Crown Royal XR (80 proof or 40 percent alcohol by volume, $129.99 for 750 ml)

APPEARANCE: Copper and amber color. Fat, quick legs with some sheeting.
NOSE: A vibrant nose with a spicy, root-beer candy aroma comes out at the front, before turning to maple sugar, vanilla and caramel and ending with bread dough.
PALATE: Initially a hint of banana, but quickly replaced with honey, Sherry, cinnamon and graham cracker.
FINISH: The graham cracker and a bit of Sherry dominate the rather long, smooth finish.
With the PDR: The Crown Royal enjoyed perhaps the best pairing in the bunch with the milder PDR. The whisky brought spice to the smoke, where little previously existed and the cigar elicited nutty flavors (pistachio and almonds) from the whiskey. Both became more nuanced.
With the Four Kicks: While not as successful a pairing with the more full-bodied Four Kicks, there was still some synergy. The whisky calmed the tart cedar in the cigar, transforming it to cream. The smoke turned the whisky doughier, almost like a cream puff.
Collingwood, Hand-crafted Blended Canadian Whisky (80 proof or 40 percent alcohol by volume, $26.99)

APPEARANCE: Amber and copper color with medium-width, slow legs.
NOSE: The maple finish is immediately discernible on the aroma. Other sweet notes—honey, flowers and fruit—follow, with apple cider and spicy cinnamon.
PALATE: At the front and on the tip of the tongue it has a hard candy sweetness that is quickly replaced with deep red fruits, maple sugar, honey, bread dough, licorice and cinnamon.
FINISH: Candied fruitiness at the happy ending.
Comments
1 comment(s)
Float Dub — March 31, 2012 4:25pm ET
---
You must be logged in to post a comment.
Log In If You're Already Registered At Cigar Aficionado Online