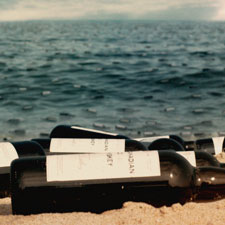 Bottles of Canadian whisky wash ashore in the opening credits of HBO's "Boardwalk Empire."
Oh, Canada! A Look at Whiskies from The Great White North
All you have to do is flip on the tube to see that yesteryear adored Canadian whisky. On HBO's "Boardwalk Empire," a series set in Prohibition, hundreds of bottles of the stuff wash up on the Atlantic City shore behind the opening credits each episode. And Don Draper, anointed on AMC's "Mad Men" as the 1960s' coolest person of all, seemingly drinks the spirit of our northern neighbor all day long. Well, the market of the present is getting a pretty good dose of two as whisky makers roll out new examples from special blends to older expressions as well as some single-barrel and small-batch efforts (much like its Bourbon and Scotch competition).
While it has a markedly low profile, Canadian actually commands a fair slice of the whisk(e)y market (about a third of sales in the United States) and has done so since Prohibition when, overnight, its distillers became the closest source for "the good stuff." By the end of Repeal, the United States had developed a taste for this lighter quaff, and the eminently mixable spirit replaced Bourbon and, more notably, straight rye whiskey in many classic cocktail recipes.
Today, the whisky doesn't typically occupy the top shelf because its greatest virtue, smoothness, is often decried by enthusiasts who seek out spirits with a spikier flavor profile. Canadian whisky can legally be distilled to above 90 percent alcohol, leading some to call it "brown vodka." However, the resulting distillate is given great attention in the complex aging process, which often includes assiduously artful blending.
(Since we believe the final test for a great whisk(e)y is how it pairs up with cigars, we married a couple—see the next page—to great effect.)
Manufacturers have been broadening the palette by borrowing ideas from the rest of the whisk(e)y world, while adding their own twists. In the case of Collingwood (an offshoot of Canadian Mist), the concept of finishing (transferring whisky to different wood at the end of the aging process) is utilized. However, that extra time is spent in an unusual wood, one more synonymous with Canada: toasted maple.
Another high-end Canadian, Crown Royal Cask No. 16, undergoes a Cognac-cask finishing from which it gets floral character and hard-candy notes with a spicy ending. Canadian Club makes its Sherry Cask, which smacks of creamy Sherry, raisins and chocolate. A small winemaker turned distiller, Forty Creek, offers Port Wood Reserve, coaxing out raisins, butterscotch and plum.
The recent Caribou Crossing is a small-batch effort. Just as with Bourbon, the blenders know that some parts of the aging houses make better whiskies than others. For Caribou Crossing, they find those special casks by cherry-picking 30 to 60 barrels from a total of 225,000 to make this issue from the company that owns Buffalo Trace. The whisky tastes like butter-rum candy and graham crackers with cinnamon.
Extreme aging is, of course, a stalwart method for making enhanced whisky. Wiser's, a favorite among Canadians but released in limited quantities in the United States, makes an 18-year-old that was named Canadian Whisky of the Year by Whisky Advocate magazine for its deep rye, licorice and apricot flavors. Canadian Club 30 Year Old takes aging to a positively ancient age. The result is notes of honey, maple, oak, toffee, pear and vanilla, along with its consummate smoothness.
Canada is not without its flavored efforts. Revel Stoke includes vanilla, cinnamon, ginger and coriander, and Phillips Union has its Cherry and Vanilla expressions. Tap 357 has a maple syrup component. But Canadian whisky is not new to the flavoring fad. Standard Canadian whiskies are legally allowed to include both flavoring and caramel coloring—even if it is not noted on the label. In fact most have traditionally been informed by a bit of Sherry or wine.
THE CIGAR PAIRING
We chose the above mentioned Collingwood and the superpremium Crown Royal XR to pair with two cigars on the medium-to-mild end of the spectrum: PDR 1878 Cubano Especial Capa Natural Double Magnum (6" by 60 ring gauge, Dominican Republic) and Crowned Heads' Four Kicks Corona Gorda (5 5/8" by 46 ring gauge, Dominican Republic,
rated
in a recent
Cigar Insider
).
Comments
1 comment(s)
Float Dub — March 31, 2012 4:25pm ET
---
You must be logged in to post a comment.
Log In If You're Already Registered At Cigar Aficionado Online