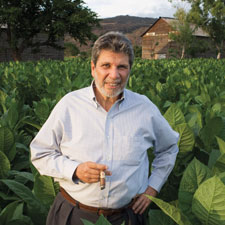 Eduardo Fernández, the owner of Aganorsa S.A., surveys a field of sun-grown, Cuban-seed tobacco in one of the company's many vegas in Nicaragua.
The Aganorsa Enigma
Once an enigma among growers, Eduardo Fernández's Aganorsa S.A. is now a dominant force in Nicaraguan tobacco
(continued from page 2)
Ramos is a weathered man with a generous belly and a frown that quickly turns into a broad smile when his sense of humor kicks in. He is smoking various puros made entirely with one type of tobacco to get the true taste of that single component. When Ramos decides cigar "A" is a good match for cigar "B," he jams both in his mouth at the same time to prove his point.
This maneuver elicits guffaws from his coworkers.
Joining Ramos and Fernández is Jacinto Iglesias, another Cuban tobacco technician who looks entirely different from Ramos. He is almost impossibly lean, with a mustache thicker than a push broom flecked with white hairs. "Jacinto came in as an expert in sanitation and fumigation," says Fernández. The two are Fernández's go-to agronomists.
Ramos and Iglesias are seasoned smokers, but Fernández wasn't a cigar smoker before this venture. "I started when I entered the cigar business. Being in this business, you have to smoke, you have to try. We're always smoking the different tobaccos."
Fernández broadened his business in 2002 when he bought Tropical Tobacco from Pedro Martín. Tropical owned such brands as Don Juan, V Centennial and Cacique. The move helped, but Fernández says his big breakthrough came about two years later, when revered tobacco broker Oliva Tobacco of Tampa, Florida, began buying some of his tobacco. "That ended the blockage," he says. "That put us on our way to making a business out of it."
He later worked together with José "Pepin" Garcia to open cigar factories in Miami and Nicaragua. The partnership ended poorly. After a lawsuit that began in 2010 was settled last year, the two companies have now gone their separate ways.
Fernández now has a new Miami factory, owned entirely by him, and it's already making some stunning cigars. The factory's Casa Fernandez Miami Toro, an $8 smoke, scored 92 points to earn the No. 12 spot on Cigar Aficionado's most recent Top 25 tasting. It was the only American-made cigar on the list. The cigars at the factory are made in the Cuban way: "Triple capped, Grade-A, Aganorsa leaf," says Paul Palmer-Fernández, Fernández's cigar-loving cousin. Fernández brought Palmer on board to run his cigarmaking operations after he acquired Tropical, and today Palmer is president of Casa Fernandez/Tabacalera Tropical.
Fernández can now speak for hours about the properties of tobacco and what makes one type different from another.
"Jalapa has better aroma and flavor. Estelí has strength and a white ash. The heavy magnesium creates the white ash," he explains. He is standing near a bubbling stream, a field of tobacco behind it. The fields here are irrigated by an expensive system of canals built by Somoza when the lands were his. The water comes from the mountains, four kilometers away. "In tobacco you need water, you need people and obviously good land," says Fernández. He looks at Iglesias and Ramos. "These guys live for tobacco. The crop requires that from you."
Most of the tobacco here is grown under shade. It's tall and elegant, rising from the reddish soil that's reminiscent of the fields in the Vuelta Abajo. The curing barns that store it after the harvest are tall and long, beautiful structures that have stood strong against scores of hurricanes and lesser rainstorms that have battered their wooden exoskeletons for 50 years.
Near the end of the long day, the Aganorsa team of Fernández, Palmer, Ramos and Iglesias stand in the gloom of a dreary tobacco warehouse. Palmer has dubbed this area the Skunk Works, for here is where they come up with blends, mixing a bit of this and a bit of that. Palmer has a worker mix up a blend on the spot, with some Corojo '99 ligero from Jalapa, seco from Jalapa grown from Criollo '98 seed, and some medio tiempo harvested in Estelí.
The men light, puff, squint and nod. "There's freshness and smoothness on the palate," says Palmer. "That's signature Aganorsa."
Comments
2 comment(s)
JONATHAN DREW — NEW YORK, NY, UNITED STATES, — May 10, 2012 4:17pm ET
---
G — March 24, 2013 9:27pm ET
---
You must be logged in to post a comment.
Log In If You're Already Registered At Cigar Aficionado Online