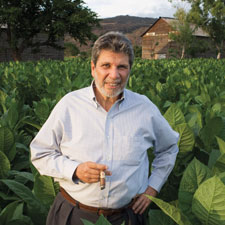 Eduardo Fernández, the owner of Aganorsa S.A., surveys a field of sun-grown, Cuban-seed tobacco in one of the company's many vegas in Nicaragua.
The Aganorsa Enigma
Once an enigma among growers, Eduardo Fernández's Aganorsa S.A. is now a dominant force in Nicaraguan tobacco
(continued from page 1)
Fernández then had quite a sum of money, and yearned to escape Madrid and get away from corporate life. "Being an island person, being in Madrid, four hours from the ocean, I felt a choking effect," he says. He yearned to work the land. Unable to farm in his native Cuba, he looked to Central America. "I always had this great image of Costa Rica, but I was won over by Nicaragua," he says.
Fernández saw a bargain opportunity in the post-cigar-boom environment of Nicaragua. A tobacco cooperative called TAINSA was struggling as cigar sales tapered off.
"People stopped buying tobacco when the boom ended, and the last [TAINSA] crop rotted into the ground," says Fernández. "For almost one year the farmers worked and were not paid, so they went on strike. All these cooperatives became available."
In the summer of 1997, Fernández created Agricola Ganadera Norteña S.A.—known as Aganorsa. He dipped a toe in the waters, making a first purchase of 100 manzanas, or about 168 acres in the Spanish measurement system common to farms in Nicaragua. Most of the acreage was in Jalapa, in the north of Nicaragua, which is a region known for the country's most beautiful wrappers. He also owned a smaller amount of land in Condega, a region located farther south, closer to Estelí, with a reputation for growing tobacco that strikes a balance between elegance and power.
Fernández was immediately taken with the beauty of what he had purchased. "These were unique lands, more than 60 shade houses and some of the best lands in Nicaragua that had been confiscated by Somoza. It was a once-in-a-lifetime opportunity."
But despite having great land and Cuban technicians to handle the planting, Aganorsa's start was a troubled one. The cigar business is built on trust and reputation, and it's hard for a newcomer to break in, especially during difficult times. "People would not buy tobacco from us," remembers Fernández. Flustered, he turned back to Europe, and began selling tobacco to long-leaf brokers in Spain. And that's where he met Arsenio Ramos.
Ramos is Fernández's tobacco MVP, a 76-year-old from Cuba with big glasses and a cigar perpetually stuck in his lips. (Casa Fernandez has a fine cigar bearing his name, the Casa Fernandez Arsenio, which rated 89 points in this magazine.) Ramos is a walking encyclopedia of tobacco who was ready to retire from Cuba's cigar industry, where he was in charge of fermentation operations. "He was the best in Cuba in terms of fermentation," says Fernández.
In Jalapa, Ramos shows off some of his skills, pausing to describe the dirt in this gorgeous part of the world, which is a long, bumpy drive from the cigar capital of Estelí. "See this soil?" says Ramos. "It's the same as San Luís, in the Vuelta Abajo. This is just like the El Corojo farm." He stoops down, grabbing a fistful of brown earth in his calloused hand.
Spending an afternoon with Ramos is a constant lesson in the art of growing fine tobacco, not to mention a nonstop smoke session. "Tobacco has 27 minerals," Ramos says at one point to explain how proper fermentation is essential to rid the leaf of unwanted properties. "The hardest to take away are the proteins and the acids." Protein is a particular problem, he says, as it turns to ammonia, the bane of tobacco.
"Tobacco requires tender loving care from the seedling to the ash," says Ramos, lighting yet another cigar. "There are 292 times when the human hand comes into contact with the cigarmaking process. The soil is very important, the climate is very important and the man is even more important."
Comments
2 comment(s)
JONATHAN DREW — NEW YORK, NY, UNITED STATES, — May 10, 2012 4:17pm ET
---
G — March 24, 2013 9:27pm ET
---
You must be logged in to post a comment.
Log In If You're Already Registered At Cigar Aficionado Online