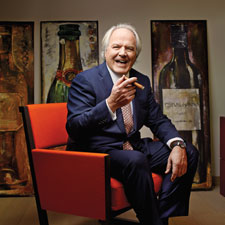 Christophe Navarre loves a good cigar, and has several every day.
Christophe Navarre
Christophe Navarre, who leads one of the world's most prestigious wine and spirits companies, likes to start the day with a good cigar.
(continued from page 2)
However, his "Eureka" moment—when he discovered the taste of truly great cigars—came when he was 17. One night he took a break from cramming for university exams in Liège, Belgium, where he would earn a degree in business administration, and joined his father and a friend after their meal at a fine restaurant that featured a superb collection of Havanas. The friend was smoking an enormous Cuban cigar.
"Do you enjoy smoking a cigar now and then?" the friend asked.
When Christophe nodded yes, the man called for the humidor. "And without looking, he plunges his huge hand—I can still see it, the arm is like a crane—into the humidor, grabs a bunch of cigars and hands them to me. 'Here, you will study better with those,' " Navarre remembers.
Once he returned to his room, he took a closer look at the gift: Château Margaux, Château Yquem, Dom Pérignon. "I didn't have the faintest idea about their pedigree," he says of these Davidoff-made Havanas. "It was my first contact with the cigar Nirvana."
Early in his career, when he couldn't afford such fine cigars, he smoked cigars from Mexico and Sumatra. Since then, his collection has expanded. "I am privileged to have about 150 Dom Pérignon cigars in my cellar," he says. "But I am desperately searching for Château Margaux from Davidoff because for me, it is the gold standard, the greatest quality possible. Even in London hotels with great collections you can find Dom Pérignon and Château Yquem but not Château Margaux."
Navarre's passion for cigars has brought him immense pleasure throughout life. "The cigar is a symbol of well-being, for the epicurean, for people who feel good. I've never met a cigar smoker who wasn't a man of quality. I weight my words: Never."

Per-Henrik Mansson is a freelance writer based in Switzerland.
You must be logged in to post a comment.
Log In If You're Already Registered At Cigar Aficionado Online