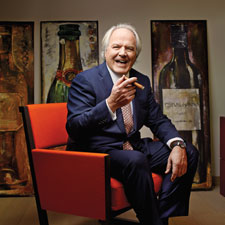 Christophe Navarre loves a good cigar, and has several every day.
Christophe Navarre
Christophe Navarre, who leads one of the world's most prestigious wine and spirits companies, likes to start the day with a good cigar.
(continued from page 1)
As Navarre tells it, "I was in Hong Kong when I got a call. 'Look, congratulations, Christophe, we will be the owners of a formidable malt whisky. The deal might happen tonight.' I jumped on the first plane back to Paris. Upon arrival, I learned that someone was making a higher offer."
The surprise bidder was Pernod Ricard, the French drinks company. "At one point, Bernard asked me to join him in his office, where he worked the phone. 'This deal is mine,' he said to one interlocutor. 'I am the one who worked on it and made it happen.' Five minutes later the deal was done. He didn't have to raise his price. What I saw was a display of raw power and, above all, his strong will."
Persistence and determination has paid off in Navarre's own successful career at LVMH. "So far, so good," Navarre says with a smile, adding that Moët Hennessy reported record results in 2011 (although he won't provide details until the formal announcement in early February). Results were already very positive in 2010, when Navarre's wines and spirits division reported 3.3 billion euros in revenues, making it the second largest contributor to the LVMH group behind the perennial cash cow, Louis Vuitton, which accounted for the lion's share of the 7.6 billion euros worth of sales reported by the group's fashion division that year.
Navarre isn't some corporate clone in the LVMH world. At 53, he is a broad-shouldered extrovert with a jutting chin, a voluble, friendly, back slapping kind of guy with a rumbling and seductive baritone voice.  He is also padded like a former athlete turned bon vivant ("I don't do enough sport. In fact, I don't do any. I am like Churchill, I prefer to smoke cigars," he told me once, drawing on a Juan Lopez).
A workaholic who averages four or five hours of sleep a night during extended periods, he carves out downtime during intercontinental flights. "For instance, I can sleep 12 hours when I travel to Japan. The phone is off and I create a void, a kind of zen zone." He is frequently in Miami with his family where they have a home. "I wish Europe was more like America, where you can be 'reborn' after a failure, and where you are encouraged to feel that you can reach a higher goal the next time around."
Navarre knows his passion for cigars isn't shared at the top of LVMH pyramid, not as a pastime, or for its potential as a business. Navarre has suggested that LVMH should produce luxury cigars if the opportunity presents itself. "One day, when Cuba opens up, I would like us to buy a plantation, but Bernard will not do it," Navarre relates. Undeterred, he says he will buy one on his own one day. "I will do it out of passion, because it is my dream to make a cigar. I am certain you can double prices easily, and sell a cigar for $60, if the quality is really exceptional. When Cuba opens up, I'll do everything I can to buy a farm in Pinar del Río, which obviously makes the best tobacco."
Beyond personal chemistry, Navarre shares a bond with his boss—a competitive streak and taste for winning or, as Navarre likes to point out, its corollary: beating the enemy. Basically, they view business as a war.
"Bernard is a warrior and so am I," the cigar aficionado says. "We share a life philosophy. When I say 'warrior,' it's because we are businessmen, and business is like a war. And one of the problems I find with managers these days is that they are no longer warriors. And because they aren't warriors, they don't win. If they were warriors, they'd have only one goal: to win."
It's emblematic that the sculpture of an ancient Chinese warrior dominates Navarre's office.  His fighting spirit was shaped during military service in Belgium where he was an elite air commando. "Every morning at 6 a.m. we lined up bare-chested and in camouflage pants, replying, 'Yes sir! Yes sir!' Just like in the movies," he recalls. "Then we'd jump out of planes, and the guy behind you was responsible for fixing your parachute so it opened automatically. You didn't look over your shoulder to check if the man had done his duty. You just jumped."
A lifelong smoker, Navarre has always stuck to cigars except during two periods: As a boy, after serving Mass on Sundays, he'd sneak out with his comrades after service to puff on Menthol-flavored cigarettes, and in the army when cigars were too expensive for his modest pay and he accepted the rations of cigarettes given out to the soldiers. "Even as a boy, I never got sick smoking cigars, unlike my friends who were ill just with cigarettes," recalls Navarre, who once bought a huge, cheap Belgian cigar and hid it like a treasure in the basement of the building where he lived.
You must be logged in to post a comment.
Log In If You're Already Registered At Cigar Aficionado Online