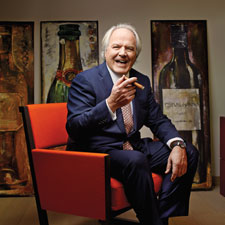 Christophe Navarre loves a good cigar, and has several every day.
Christophe Navarre
Christophe Navarre, who leads one of the world's most prestigious wine and spirits companies, likes to start the day with a good cigar.
There is a strong whiff of tobacco on Christophe Navarre's breath, clothes, and in the company car taking him to one of his most important appointments of the month: the LVMH executive meeting hosted by his boss, Bernard Arnault, President and CEO of LVMH,  Louis Vuitton Moët Hennessy.
The executives gather regularly for a meeting and lunch to report how their respective operations have contributed to the world's leading luxury goods group, whose revenues reached 20 billion euros ($28.3) in 2010.  As the company's wines and spirits "czar" who heads Moët-Hennessy, LVMH's second largest division, Navarre knows his performance will come under close scrutiny.
Navarre's rule is to never smoke when he is stressed, but that rarely happens, partly because the stress level is bearable for him at LVMH.  The Belgium native averages two or three cigars a day, lighting up the first—and, in his mind, the best—one around 10 a.m. That's when the urge strikes him to reach for "something not heavy, with finesse and little aftertaste" like the Hoyo de Monterrey Epicure No. 2, Juan Lopez Seleccion No. 2 (Robusto), or a Montecristo Open Eagle. "For some, the best smoke is in the evening, after the meal. For me it is around 10 a.m.," he explains. "That's when I have the best capacity to taste. It's the same thing with spirits. At Hennessy Cognac, the maître de chai always said, 'if you are going to taste eau-de-vies, do so in the morning because your taste buds can recognize all subtleties.'"
Navarre reports feeling "aligned" with the LVMH world ever since 1997, when he left the world's leading beer company, Interbrew, to become president and CEO of Cognac-based Hennessy & Co. Navarre was attracted to LVMH because he had heard of its entrepreneurial corporate culture.
Navarre was sold, remembering that he'd been told he was expected to run his business as if it were his own. "It was a short, 30-minute job interview—meetings are always short with Bernard Arnault—but I felt then what I continue to experience every day: that he is a great entrepreneur. I didn't have the impression that I was entering a group with a bunch of bureaucrats who relied on organizational charts. And I said to myself, 'I am unbelievably lucky because I will run a company and somehow leave my mark on it.' "
One day, just before he was about to sign his employment contract, Navarre read a surprising article in the Financial Times that reported that Hennessy was going to be sold.  "So I call up the head of Moët-Hennessy, Pierre Letzelter, to ask him what the hell is going on," he says. "I had already heard rumors about Bernard's supposed lack of interest in the wines and spirits business. Pierre's response? 'Don't worry, Christophe. [He] would never do that.' "
That assurance appeased Navarre. "I have nothing against the Brits, but I don't want to work for them," he told Letzelter.
Navarre began to manage Hennessy as if it were his own company, earning his boss's trust as the years went on. "To gain his confidence, you must say what you do, and do what you say,'' notes Navarre, who doubled Hennessy's sales before being promoted as president and CEO of LVMH's wine and spirits division in 2001. He runs LVMH's wine and spirits division with the take-no-prisoner enthusiasm of a conquering general.
Navarre relates to the corporate philosophy that finishing second isn't allowed. "When you enter a race, being number two is not an option—all that counts is being on top. That's why I want Moët-Hennessy to be a company under pressure day and night, 24/7. I like to think of it as positive pressure. And you know what? It works because people like the adrenaline and they want to give the best of themselves. It's like being a Formula 1 racer who will try it all to go three hundredths of a second faster per round because he senses that he can win the race—that objective allows him to multiply his capacity. It's the same in business. Some people in the group call me a 'cowboy.' But I will never change because I believe in such a mentality to be successful in business."
To this day, news reports surface regularly about LVMH's "impending plans" to sell Moët Hennessy. "But as I tell everyone, we are still here," Navarre says triumphantly. In fact, just the opposite has happened—LVMH has acquired more brands. Under Navarre's leadership, LVMH has invested in Millennium, the producer of Belvedere vodka; bought Glenmorangie, a prestigious single malt whisky house, for a reported 300 million British pounds; and launched 10 Cane Rum and Chinese white spirit Wenjun, among other new ventures. "People said we would never buy another brand. But each time we ask for an investment, he does it, as long as we can demonstrate that it fits with the Group's strategy," states Navarre.
The battle for Glenmorangie in the fall of 2004 was a vintage LVMH action, according to Navarre. "We had to fight for it," he recalls. "We thought we had the deal wrapped up, but we were surprised to learn someone else made a bid. That's when I had a close-up look at Bernard Arnault in action."
You must be logged in to post a comment.
Log In If You're Already Registered At Cigar Aficionado Online