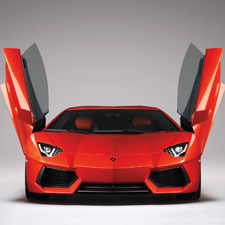 Best supercar: Lamborghini Aventador
Luxury's Best of the Best
The high-line sphere in today's automotive world has grown to include almost every conceivable category. We look at the class of every class.
(continued from page 4)
Perhaps we should have come up with an avian analogy, as the exterior design of the new sedan was strongly influenced by the look of an eagle's outstretched wings, according to Lincoln design chief Max Woolf. That's especially apparent in the new horizontal grille, which replaces the tired, Lincoln waterfall grille. The exterior is elegant and graceful, but the most striking feature is the full-glass retractable roof. We're not talking panoramic sunroof. The entire glass top slides back to give a convertible-like feel. Add the sleek interior which, Woolf says, was modeled after a suspension bridge, and Lincoln just may have a reason to stick around.
Paul A. Eisenstein is publisher of TheDetroitBureau.com on the Internet.
You must be logged in to post a comment.
Log In If You're Already Registered At Cigar Aficionado Online