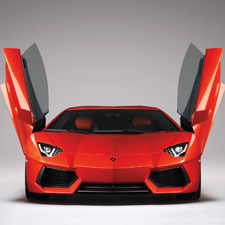 Best supercar: Lamborghini Aventador
Luxury's Best of the Best
The high-line sphere in today's automotive world has grown to include almost every conceivable category. We look at the class of every class.
(continued from page 2)
Almost forgotten barely a decade ago, the British maker has staged one of the most dramatic turnarounds in automotive history, and after a brief slump during the global economic downturn it is once again setting record sales. The Continental line is the primary reason. The smaller of Bentley's two platforms is as elegant as any to come out of the Crewe plant—with a forest full of hand-cut and polished wood trim—but it's also got some serious performance bona fides.
An all-new Continental line debuted last year, starting with the second-generation GT Coupe. For 2012, Bentley has returned with the GTC convertible. With the top up you'd hardly notice it doesn't have a conventional roof, it's so quiet. Top down and you can push well into the 100-mph range and still hold a conversation.
The 567 horsepower V-12 sprints to 60 in barely 4.5 seconds and keeps going until the needle nudges 195. Of course, you could get even better numbers for this money in a Ferrari or Lamborghini, so Bentley has lavished its owners with the refined features that the brand has long been known for. Meanwhile, for the New Year, the British maker is offering a more mileage-minded V-8. Even the wealthiest motorists are watching their fuel bills, it seems.
Best Performance Car: Jaguar XKR-S
Here, kitty, kitty. Oops, you've got quite a set of claws. For some folks, 510 horsepower just isn't enough. That's why Jaguar upped the ante on its already impressive, supercharged XKR by rolling out the new XKR-S Super Coupe, its debut coinciding with the 50th anniversary of the launch of the legendary Jaguar E-Type.
The XKR-S is as close to a raw muscle car as you might get from the British maker, delivering a whopping 550 horsepower and 502 lb-feet of torque, enough the maker says, to propel it from 0 to 60 in just 4.2 seconds—on the way to a top speed of 186 mph.
Sadly, you may have to look long and hard to find one of the $132,000 cats, Jaguar is only planning to import about 100 copies of the XKR-S coupe to the U.S. The good news is that you might be able to find one of the new convertible models that the maker has also introduced. Same basic performance numbers, just a lot more wind in your hair.
 
Best Supercar: Lamborghini Aventador
It's not a term one would normally associate with one of Italy's raging bulls, but Lamborghini CEO Stephan Winkelmann is dead serious when he describes the new Aventador as an "everyday" sports car. Of course, it helps that the maker's new flagship model now has a button to press that slightly raises the front end so you won't scrape it up going up your driveway or into a parking structure.
But the surprising thing is that the new Lamborghini Aventador can really be tamed for around-town driving, something almost impossible with the marque's earlier supercars, which would buck and snort when you got down to something close to the speed limit. Then again, find an open stretch of road, let your foot squeeze the trigger and you might want to keep your lawyer's number on speed dial.
Its full name is Lamborghini Aventador LP 700-4, and that translates into an eye-popping 700 horsepower going through all four wheels. At just 2.9 seconds, 0 to 60, you'll be able to challenge an F-16 off the stoplight. But fans of the brand will be shocked at the level of refinement in the latest Lambo offering—courtesy of the Italian maker's partner, Germany's Audi, which clearly knows a lot about driving cars every day.
You must be logged in to post a comment.
Log In If You're Already Registered At Cigar Aficionado Online