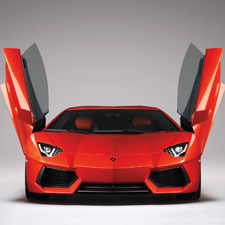 Best supercar: Lamborghini Aventador
Luxury's Best of the Best
The high-line sphere in today's automotive world has grown to include almost every conceivable category. We look at the class of every class.
(continued from page 1)
Even the base CLS delivers a more solid and planted ride, with the AMG edition maximizing thrills. Mercedes maintained the lavish leather, wood and high-end features—from its advanced COMAND infotainment system to the latest high-tech safety gear—of the original CLS.
Best Luxury Hatchback: Audi A7
The Audi A7 immediately violates one of the cardinal rules of the American market: the engrained belief that hatchbacks don't sell. Okay, let's keep it a secret. If buyers don't notice, there's no reason to tell them. The simple fact is that for a company long known for its cutting edge design the new Audi A7 once again raises the bar—both inside and out.
The new A7 lifts many of the latest high-tech features introduced on the Audi A8 flagship last year, including the trick touchpad that lets you "draw" a letter or number when programming the navigation system or dialing a phone number. A Wi-Fi hot spot lets you use a cell phone, iPad or laptop computer. And the navi displays the world as seen through Google, with real moving images, not graphics. With Audi, though, the real appeal is how it balances high-tech and high-style.
The five-door also performs, with a 3.0-liter supercharged V-6 driving a smooth and intuitive eight-speed gearbox. Its gobs of torque will get you to 60 in 4.5 seconds, on the way to an electronically limited 155-mph top speed.
Best Luxury Sports Car: Porsche 911 Carrera S
Pity poor Michael Mauer—well, not too much. He was given the challenge of coming up with the all-new, seventh-generation Porsche 911 a few years back. But he knew that there would be severe limits on what he could do "or it wouldn't be a 911," he says. What he's wrought is a new model that is at once familiar and yet surprisingly new, a classic sports car that is now longer, wider and lower.
And, as hard as it might seem to believe, it is a lot more fun to drive. Under that new body is a markedly lighter platform with the overall vehicle weighing in about 100 pounds less than the outgoing model. And, as they'll readily tell you, less weight means a faster, more nimble ride.
The Carrera edition, with its 3.4-liter flat six, will deliver 0-to-60 times of just 4.4 seconds. The Carrera S, with its pumped up, 3.8-liter engine, gets another 50 horsepower—at an even 400, and barely needs four seconds to hit the 60 mark. But straight-line performance isn't why you buy a Porsche. With its new hydro-electric steering and Dynamic Chassis Control system it performs miracles in tight corners. No wonder it shaved a full 16 seconds off the old car's already impressive times on the German Nürburgring, perhaps the most revealing track in the world.
Best Premium Luxury Convertible: Bentley Continental GTC
You must be logged in to post a comment.
Log In If You're Already Registered At Cigar Aficionado Online