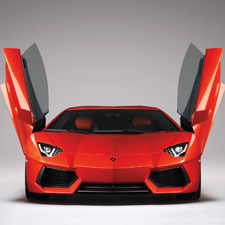 Best supercar: Lamborghini Aventador
Luxury's Best of the Best
The high-line sphere in today's automotive world has grown to include almost every conceivable category. We look at the class of every class.
Just a decade ago the term luxury car meant nice leather seats, refined wood trim and plenty of power. Now, a better descriptor would be choices. Yes, they still deliver all the plush you expect from a premium price, but today's new car buyer is likely to find luxury in any category—including sedans, coupes, sports cars, crossovers and classic sport-utility vehicles—he desires.
Manufacturers have been filling market niches so fast it seems like German automakers may soon run out of alphanumeric terms to name them with. But not only are you likely to find the precise product you want, you'll find it comes with an emphasis on high-tech features. The options are phenomenal: from iPad-sized touchscreen displays and studio-quality sound systems to advanced gas-electric drivetrains and digital safety systems that can spot—and respond to—an emergency before you even know there's trouble.
With so much choice out there on the high-end, we are once again helping out with our latest selection of the luxury market. Here are our superlative picks in the 10 most important segments of the car world's high line.
Best Entry-Luxury Model: BMW 3-Series
It's hard to think of this Beemer as entry-level. The latest ultimate driving machine looks as elegant and sophisticated as many models costing significantly more. And that's what makes the category benchmark so hard to beat—even while a few new entries, notably the latest version of the Audi A4 came close and the new Cadillac ATS promise to give the Bavarians a run for the money.
The sixth-generation 3-er, introduced in January, takes an evolutionary approach to styling, with subtle tweaks to the familiar kidney grille and improved aerodynamics that influence the overall design. What's impressive is that the German automaker has found a way to deliver BMW caliber performance, while still recognizing that even luxury buyers want better mileage.
That meant one surprise: the decision to replace the "base" model's familiar inline-six engine with the first four-cylinder powerplant in a number of years for a U.S. 3-Series offering. But that turbocharged 2.0-liter package still churns out a hefty 240 horsepower, with a 3.0-liter turbo six still available to bump the pony count up to 300. Later in the year, BMW will also weigh in with its latest hybrid, the ActiveHybrid 3, that will deliver a solid 37 miles a gallon—and still pump out 335 hp with its combination of gas engine and electric motor.
Best Premium Sedan: Mercedes-Benz CLS 63 AMG
Few entries have had a bigger impact on automotive design, over the last decade, than the Mercedes-Benz CLS, the maker's shorthand for "coupe-like sedan." Its curvaceous roofline and elegantly sculpted body left its mark at all ends of the price spectrum. So, imagine the challenge facing Mercedes designers when they had to go and do it again.
Well, they pulled it off—with a bullet. The 2012 update is as eye-pleasing as the original. But it's also a lot more fun to drive, especially if you can afford to park the Mercedes-Benz CLS 63 AMG in your driveway. Here, the name is a bit misleading, as the new model migrates from the old AMG edition's naturally aspirated 6.2-liter engine to a 5.5-liter package that also relies on twin turbos at takeoff. Specifically developed by AMG, Mercedes' performance arm, it now makes 518 hp and 516 lb-ft. Not enough? There's the optional performance package, which raises turbo boost and brings the numbers to a 550 hp and 590 lb-ft.
You must be logged in to post a comment.
Log In If You're Already Registered At Cigar Aficionado Online