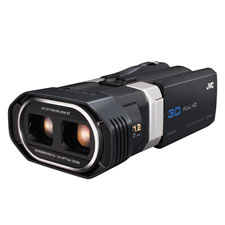 The Fujifilm FinePix Real 3D W3 camera.
You and 3d
As entertainment enters the third dimension ask yourself what you want out of 3D and what items from a plethora of gear are likely to deliver.
(continued from page 3)
On the LG set, if I turned my persnickety reviewer's eye to the picture, I could spot some flaws and artifacts when viewing Blu-ray movies and playing some PlayStation 3 games. These problems were much less apparent if I took a few steps back from the set. At a reasonable viewing distance, I felt the minor shortcomings were outweighed by the comfortable glasses and the noticeably brighter image.
Each format has trade-offs, and different users have different priorities. Purchase online if you like, but particularly with a 3D set, you should definitely try before you buy. This is especially important for the 5-10 percent of the population who don't see the 3D effect at all, no matter what the display device. Others find the effect disturbing—one of my best friends can only watch for a few minutes at a time without having the first signs of a headache set in. And for some people, despite the loud rah-rah of movie producers and TV manufacturers, 3D simply leaves them flat.
Steve Morgenstern is a Cigar Aficionado contributing editor.
You must be logged in to post a comment.
Log In If You're Already Registered At Cigar Aficionado Online