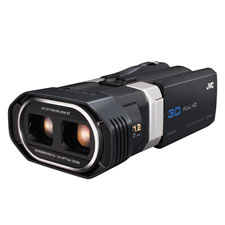 The Fujifilm FinePix Real 3D W3 camera.
You and 3d
As entertainment enters the third dimension ask yourself what you want out of 3D and what items from a plethora of gear are likely to deliver.
(continued from page 2)
No matter which 3D photo or video option you choose, you can't expect your results to be as dramatic as what you see in a professionally shot 3D movie. As mentioned earlier, even with a pro at the helm, animation works better than live-action most of the time. And with consumer equipment and amateur shooting skills, 3D looks more like good old View-Master discs than Avatar.
The Joy of Sets
So we have limited 3D programming, some good-looking games, and homemade 3D photos and video with a kind of gimmicky feel to them. Is this the formula to make you chuck your current HDTV and buy a new 3D set? Not very likely. But let's look at the 3D TV acquisition question in a different situation. Say you want to buy yourself a shiny new HDTV set—should it be a 3D model?
In that situation, 3D becomes a lot more attractive. For starters, you're likely to hold onto a new TV for many years—at least five, and more likely 10 or more. 3D content may be a little thin now, but the breadth, depth and quality could certainly improve over the next decade. Many of the best HDTVs on the market today include 3D capability anyway, and buying the highest quality set you can afford is always a good strategy when you're going to be using it for years and years. As for the cost for adding 3D to the purchase of a set, it's tough to get an apples-to-apples comparison, since this feature is just one of several differences you're likely to find from model to model. I asked HD Guru Gary Merson (editor-in-chief of hdguru.com) for a ballpark figure, and he came back with a $150 estimate.
Which brings us to a technological crossroad. There are two different 3D television technologies, using different types of glasses. At this point, while we've seen small-screen devices that work without wearing special glasses, the attempts to adapt the technology to large-screen TV sets have yielded unimpressive results.
The first sets to reach the market required active shutter glasses. In these systems, the TV displays different images in rapid sequence—one for the right eye, one for the left. The glasses synchronize with the set and electrically black out the wrong eye, so the left eye is covered when the right-eye image is shown and vice versa. The result: a full-resolution 1080-line high-def picture in 3D. The downside? The glasses are bulkier than ordinary eyeglasses, expensive (roughly $100 each) and require recharging. Often 3D-capable TVs that use active shutter technology come without any glasses included, to keep the sale price down. The glasses also darken your view of the screen.
The alternative technology uses passive glasses—the same kind you get at a movie theater. There are no sequential images here. Instead, the picture is drawn with alternating horizontal lines down the screen, in a kind of right-eye, left-eye sandwich. Glasses with differently polarized lenses sort out the two images for the viewer. Here you get lightweight, comfortable glasses with no electrical power required, and while they cut down screen brightness some, it's not as severe as with active shutter glasses. What's more, compatible TVs usually come with several pairs, and extras are available for $10–$20 each.
So where is the rub with passive glasses technology? You're cutting the horizontal resolution in half by alternating lines. This can lead to a jagged appearance, especially if you look carefully at straight diagonal lines in an image. Even experts who spend their entire professional lives peering at TV screens and scientifically analyzing the images are split on how much this resolution difference offends the eye, and as you'd expect, picture quality varies from model to model among sets using the same technology.
For test purposes, I borrowed a Panasonic Viera TC-P50GT30, a 50-inch set using active shutter technology, and a 47-inch LG LW5600 that relies on passive glasses. The Panasonic carries a $1,900 list price but can be found for around $1,200 without glasses, while the LG lists at $1,000, with four pairs of glasses included.
The Panasonic is a plasma display, and delivers a superb 2D picture. Given my druthers between plasma and LCD TVs, I generally prefer plasma—the colors look richer, and fast movement is always perfectly smooth. When it came to watching 3D, on the other hand, the disadvantages of active shutter were front and center. The glasses were reasonably comfortable compared to other active shutter models I've tried, and image sharpness was very good. The darkening of the picture was disturbing, though. I found myself fiddling with the brightness control when shifting between 2D and 3D content, and that's not great.
You must be logged in to post a comment.
Log In If You're Already Registered At Cigar Aficionado Online