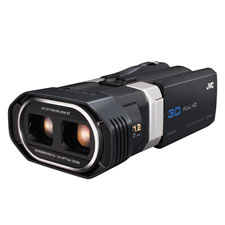 The Fujifilm FinePix Real 3D W3 camera.
You and 3d
As entertainment enters the third dimension ask yourself what you want out of 3D and what items from a plethora of gear are likely to deliver.
(continued from page 1)
Other systems aren't as promising. Xbox 360 is capable of playing 3D games but, in practice, only a few titles are available. The Nintendo Wii has no 3D support.
But another option for 3D gaming exists: a 3D-equipped laptop, which can also be used to watch 3D Blu-ray discs and stream online video. I took the high-powered Dell XPS 17 3D (starting at $900) for a test drive, and was quite impressed. The 17-inch screen is bright and sharp, and both movies and games looked great when viewed with the included 3D glasses.
Unlike video games, which require specially programmed versions to deliver a 3D effect, most stock computer games can be played in 3D right out of the box—the software uses the code already in place to create separate right-eye and left-eye images. And if you own a 3D TV, you can connect the XPS 17 via an HDMI cable and pipe the picture and sound from the computer to the big-screen set.
 
Do-It-Yourself 3D
We live in a three-dimensional world, but until recently we've only been able to capture it in 2D via conventional snapshots and videos. That's changed, though, with the introduction of cameras, camcorders and even cell phones that let you record the world around you in three dimensions, and play it back on a 3D TV.
For 3D still photos, the best available option is the Fujifilm FinePix Real 3D W3, which has a $600 list price but can be found online for $300-$350. Some other cameras can produce 3D images, but they rely on different work-around solutions that either require panning the camera while taking a shot, or clamping on an add-on lens to the front that prevents you from using the camera's zoom feature. Fujifilm did it right, though, with two separate lenses and two image sensors. As a result, the camera is a little bulky for a point-and-shoot, but taking 3D photos (and video, for that matter) is as effortless as grabbing a 2D snapshot. And you can see the 3D effect, both before you press the shutter and while reviewing your handiwork, without wearing special 3D glasses on the 3.5-inch LCD. Or, if you prefer, you can connect the camera to a 3D TV using an optional HDMI cable.
The controls are easy to use, allowing both fully automatic and manually adjusted shooting, but the results are hit-and-miss. Making the special effect effective while composing a 3D image will require some trial and error. Even when you get the hang of it, most snapshots that aren't heavily orchestrated won't have the foreground/midrange/background distance arrangement that makes 3D images pop. This limitation is even more noticeable in video (the camera shoots in the 720p high-def format).
Happily, the FinePix Real 3D can also shoot 2D stills and video, so you don't have to carry two cameras. And the two-lens two-sensor configuration allows some cool photographic options in 2D, like shooting both a telephoto picture and a wide-angle shot at the same time. Bottom line, though, the point of carrying this relatively pricey, relatively large camera is taking 3D images. It's the best choice on the market for that purpose, but it's hard to imagine anyone using the 3D features for their day-in, day-out photographic needs.
If you're serious about shooting 3D video, JVC has you covered with the Everio GS-TD1 camcorder (list price $1,700). Like the Fujifilm camera, the JVC boasts two lenses and two sensors, but the JVC records video at the higher 1080p resolution standard. You get 5x zoom capability in 3D mode (10x when shooting 2D), and a glasses-free 3.5-inch 3D touch-screen. While I'm not a huge fan of touch-screen controls on cameras or camcorders, it is convenient to touch a spot on screen (someone's face, for example) and have the camcorder quickly focus on that point. What's more, you can set the GS-TD1 to maintain focus on that chosen person or item as it moves around on-screen.
As for controls, you can just point and shoot with good results, or tweak the shutter speed, exposure, white balance and more, whether shooting in 3D or 2D. As for 3D video quality, it can be impressive if the scene has the kind of depth to create a convincing effect. Unfortunately, you'd never know how good the video looks judging from the built-in screen, which is hard to view sharply from any angle. Connect the GS-TD1 to your 3D TV and the difference is enormous. When shooting, I quickly decided to set the screen to 2D display, even though filming in 3D. A point in favor of the GS-TD1—you can use it to shoot 3D stills as well as video, albeit at a modest 2.9-megapixel resolution. That option is entirely missing from the high-end 3D camcorders offered by Panasonic and Sony.
Overall, if you're serious about shooting 3D video, the JVC GS-TD1 is your top choice in the well-to-do consumer market. But what if you'd like to experiment with 3D without breaking the bank? Then Sony's 3D Bloggie HD camera might be your pocket-size pal, priced at $250. Its lone image sensor is tiny and no match for the JVC, but it does shoot 1080p video in 3D or 2D, 2-megapixel 3D stills and 5-megapixel 2D photos. The controls are distinctly barebones—you can't even zoom the lens—and the 2.4-inch glasses-free screen is kind of small. Still, if you own a 3D TV and want to see the family on screen in a more in-depth style than an ordinary 2D camera, the 3D Bloggie HD is a fun, reasonably priced choice.
So we have an assortment of cameras and camcorders at our disposal for capturing 3D—but we live in the age of cell phone photos and video. Two high-tech phones ship with 3D screens that don't require you to wear glasses to get the effect, and dual lenses for recording in 3D. The LG Thrill (AT&T) and HTC Evo 3D (Sprint) are both Android phones, with very similar features. Each has a big 4.3-inch screen, takes 5-megapixel stills and 720p video in 3D and 2D. A few points favor the LG phone, though. For one, it uses a standard HDMI cable to connect to a 3D TV set—the HTC requires both the HDMI cable and a hard-to-find MHL adapter. The LG also comes with several 3D games and applications, plus a 3D on-screen menu with definite show-off value. Finally, there's the question of price: at this writing, the LG Thrill 4G is selling for just $50, the HTC Evo 3D for twice as much.
You must be logged in to post a comment.
Log In If You're Already Registered At Cigar Aficionado Online