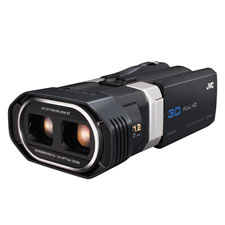 The Fujifilm FinePix Real 3D W3 camera.
You and 3d
As entertainment enters the third dimension ask yourself what you want out of 3D and what items from a plethora of gear are likely to deliver.
The movie and electronics industries have been pushing hard to ignite a lust for 3D entertainment in the bosom of America, but the jury is still out. While new technology can produce striking three-dimensional images in a variety of formats, movie-goers are increasingly choosing the standard version of a flick over the more expensive 3D extravaganza. Even though games offer some of the best 3D experiences, disappointing sales pushed Nintendo to lower the price of its 3D handheld gaming console drastically. And AT&T dropped the ESPN 3D channel from its U-verse TV service last year, citing consumer disinterest. So, with a plethora of 3D TVs, phones, game consoles, cameras and camcorders beckoning, which 3D products make sense, and which ones aren't quite ready for prime time?
3D TV
The cornerstone in-home 3D experience is clearly watching movies and other programs on TV. Since no magic will retrofit your old set and endow it with 3D capabilities, we're talking about a substantial investment. You'll probably want to buy a new 3D Blu-ray player too, and upgrade your cable or satellite service. Before you even think of reaching for your wallet, ask yourself a very important question: What 3D programming is available?
Even at this stage, roughly two years after the full-court press began, not a whole lot of 3D content flows via cable or satellite, and none comes on broadcast TV. ESPN has a 3D channel; Sony, Discovery and IMAX offer the 3net channel; Panasonic has the n3D channel; and you can watch Pay-Per-View 3D movies, along with some one-off sports events. Among signal providers, DirecTV has the most 3D content, with n3D, 3net and ESPN 3D plus Pay-Per-View movies.  Comcast has two channels plus Pay-Per-View and Time Warner has just ESPN, pay-per-view and the occasional 3D sports coverage. The DISH satellite network has only Pay-Per-View in 3D, while regional cable providers offer a smattering of 3D programming. You could argue that when HDTV arrived not much HD content was available either, but that format certainly had more momentum than we're seeing for 3D.
That leaves 3D Blu-ray discs to pick up the slack. Basically, if a movie is released to theaters in 3D format, it will end up on 3D Blu-ray. You'll also find assorted nontheatrical 3D content on disc, such as nature documentaries (a particular IMAX specialty) and a Cirque du Soleil show. Sadly, the 3D movie that enthusiasts want to see most, Avatar, is tied up as a
Panasonic exclusive, available only with the purchase of the company's 3D Blu-ray players (or for about $100 on eBay). Blu-ray 3D discs will play in 2D on standard Blu-ray players, but you'll need some new hardware if you want the full effect. The exception to the new-player rule—Sony upgraded the software in its PlayStation 3, already a top-notch Blu-ray device in addition to its gaming capabilities, so it now handles 3D as well.
The big winners in 3D video are carefully crafted animated and computer-generated content. That's what makes Avatar such a treat in 3D: James Cameron has lavished extraordinary artistic skill on his 3D endeavors and set a standard that few others have approached. The flying sequences in How to Train Your Dragon are another benchmark for 3D video. You feel the swooping and soaring sensation far beyond what you experience in the 2D version.
On the other hand, watching sports in 3D is a lukewarm experience. When high-def television launched, sports was the go-to selling point for the new sets, and it can't be denied that HDTV's level of detail makes watching your favorite game a much more in-your-face experience. The best 3D video, though, requires careful attention to camera angles, and quick-cut editing doesn't hold up well—it takes a few moments for your eyes to adjust to each new scene in 3D. However certain sports moments do gain oomph in a 3D presentation—watching a pitch approach the plate from the catcher's point of view, for example.
Game On?
But 3D TV does more than just TV programs and movies—it can also immerse you in three-dimensional videogames and computer games. And as with animated films, 3D games offer a level of visual control unavailable in live-action subjects. Game creators can carefully craft the presentation of cars whizzing through the environment in a racing game or the ammunition heading towards you in a shooter, so your response is instinctive and emotionally involving.
The leading light in 3D gaming is Sony's PlayStation 3—no surprise, given Sony's company-wide push to sell 3D as must-have technology. Most 3D PlayStation titles I've tried enhance the gaming experience rather than merely dangling visual gimmicks in your field of view. Whether you're swimming through the bowels of a sinking ship or holding onto an ascending airplane's landing gear for dear life, the Indiana-Jones-like Uncharted 3: Drake's Deception gains a visceral rush in its 3D incarnation. While racing through the postapocalyptic world of MotorStorm Apocalypse, there's a sensation in your gut after jumping off a ramp and plummeting toward the ground that just isn't the same in the 2D version.
You must be logged in to post a comment.
Log In If You're Already Registered At Cigar Aficionado Online