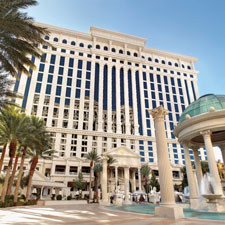 Caesars' new Octavius tower aims to bring the casino to the next level of luxury.
Conquering Caesars
Once outdated and outshined, Caesars Palace reclaims its glittering position as a world-class Las Vegas destination
(continued from page 2)
Besides having minimalistically designed accommodations and room-service running out of Nobu's kitchen, it promises to offer a level of service that the new Octavius Tower more or less hints at. Making it happen is Ramesh Sadhwani, vice president of operations who came on board last year. The kind of guy who would seem naked out of a suit and tie, he has made the act of pleasing hotel guests his life's work, previously at the Four Seasons and most recently at Steve Wynn's Tower Suites (kind of a hotel within the hotel at Wynn). When we meet for breakfast at Michel Richard and I ask for carrot juice, which the restaurant does not serve, I can almost see Sadhwani making a mental note. "If you order carrot juice this time and we don't have it," he says, "we will try to have it next time."
What lured Sadhwani away from the greatest casino name in Vegas to an operation that's been likened to a former heavyweight champ past his prime? He acknowledges that, like Greg Sherry, he would not be at Caesars if the current plan was not in place and the resurgence was not in the midst of happening. "At Nobu," he  says, "we are going to take the level of service to a different height."
It will begin when you pull up to the main entrance of Caesars Palace. "A representative will meet arrivals and walk them up to the room," says Sadhwani, explaining that the rigor of checking in at a desk will be bypassed. "Check-in will be done in the room, with an iPad. Before your arrival, you will tell us about your food allergies [so that none of your meals, from room service or the hotel's restaurants will be made with those ingredients], if you're allergic to any cleaning chemicals or if you have certain amenity preferences. There is nothing like staying in a hotel and wondering how the hell they know all this stuff about you."
While the new rooms, new restaurants and new entertainment options may be the most visible aspects of Caesar getting its groove back, Sadhwani is working on nuanced touches that play no less a role in a guest enjoying the hotel experience and wanting to return. He says it will be evident in the room service arriving a little warmer and a littler fresher. It's always a challenge in a sprawling hotel, but he's overcoming it by deploying a fleet of golf carts outfitted with ovens that zip food from the kitchen to room-service waiters near the elevators below various towers. "We're expanding the Caesars brand in Europe and Asia," he says, explaining that the upticks in accommodations and service will reverberate beyond the Strip. "We want to reflect the expectation levels of our international guests and we're getting the ball rolling for that here in Las Vegas."
After Nobu is completed, there'll be more renovations through 2013—to rooms as well as the entertainment options—and then maybe a breather for Gary Selesner and his crew? Selesner shakes his head and laughs the laugh of a man helming 4,000 rooms in a Las Vegas legend that's fighting to stay relevant. Then he says, "At that point it will be time to build some more new towers."
Michael Kaplan is a Cigar Aficionado contributing editor.
You must be logged in to post a comment.
Log In If You're Already Registered At Cigar Aficionado Online