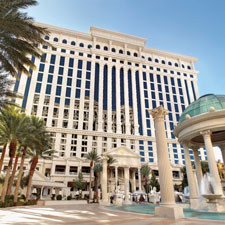 Caesars' new Octavius tower aims to bring the casino to the next level of luxury.
Conquering Caesars
Once outdated and outshined, Caesars Palace reclaims its glittering position as a world-class Las Vegas destination
(continued from page 1)
Selesner says that the company has spent $1 billion on its upgrades, improvements and build-outs. Beyond that, in 2011 parent company Caesars Entertainment had interest expenses of nearly $1.7 billion, with revenues of $2.25 billion for the third quarter of 2011. Sitting in his office, laden with the memorabilia of a career casino man—posters for the Stones at Hard Rock and boxing matches in Atlantic City; a fedora just like the one that modern-day Sinatra, Matt Goss, wears when he performs on the old Cleopatra's Barge at Caesars—Selesner flatly states, "Harrah's Entertainment recognized that this is the greatest brand in the casino business. What we're doing here, right now, is what's necessary to compete. There are other great hotels in Las Vegas. We want to make sure that Caesars will be considered one of the most—if not the most—luxurious properties in the city."
While Caesars was always known as a premium place to stay and play, it had slid down to the second tier, below more modern, urbane operations like Wynn, Bellagio and Venetian. That said, one thing that it always had in its favor was a sense of tradition. Gamblers in their 40s, 50s, and 60s harbor soft spots for the joint that once defined luxury tourism in Las Vegas. For a certain, often well-heeled demographic there is nothing quite like playing blackjack in the oval gambling pit near the entrance of the casino. It's a spot where the dealers are among the most experienced in town and the low, glitzed-out ceiling brings back memories of a more intimate Vegas where discretion was the watchword.
For Selesner, it's a bit of a high-wire act to maintain that sense of tradition while staying competitive in a rapidly evolving environment. "No doubt, the market has changed," he acknowledges. "Ninety-percent of revenue used to come from gambling. Now it's more like 50 percent. We've been open for 46 years and if we want to stay open for another 46, we know that we have to stay relevant. But for many people, this was their first casino. They loved it and they passed it on to their kids. We're going on our third generation here. We're not trying to become the Cosmopolitan, and we wouldn't want to be. The older demographic has more money."
And, it goes without saying, in the name of relevancy the last thing Selesner would want to do is lose those players. He's keeping them on board by opening restaurants like the Vegas version of Old Homestead steakhouse, which launched just before Christmas. It's actually a terrific spot that toes the line between young and old, looking cool and serving classic big-guy steaks. Co-owner Greg Sherry says that he could have brought a branch of his iconic beef palace to any number of Vegas casinos, but he chose Caesars for the same reason that a lot of his more venerable customers opt to gamble there: "The name is iconic. Plus Caesars is on an expansion right now. They're upgrading their eating establishments and this seemed like the right time for us." Underscoring his point is the fact that the Homestead's general manager and chef both came over from jobs at the Wynn, which is considered the ne plus ultra of Vegas hotels. It's probably not a move that one would make lightly or that one would have made prior to the current campaign.
Plus, like a gambler on a roll, Caesars also got a little lucky a few years ago when Selesner agreed to let director Todd Phillips shoot key scenes for The Hangover at the casino. Phillips later talked about having a connection to Caesars since it's the place where his father used to gamble, but the fact of the matter is that Caesars was not his first choice. In the original script, the movie was set to take place at the Wynn.
Not wanting to seem like the kind of place where guests wake up with tigers and other people's babies in trashed hotel rooms, Wynn turned down the production. Caesars—which had already experienced the rub-off success of Hollywood by having part of Rain Man shot there—embraced the idea. Or, as Selesner puts it, "It took us exactly one minute to say yes to them shooting in the casino and frolicking in the fountain. In a lot of ways, Caesars was a star of the movie. Nobody knew that it would be as big as it was, but we all knew that it had a great script."
Nevertheless, a few scenes needed to be cleaned up or relocated away from the hotel, but the movie clearly pays off in spades every time a Gen Xer checks into one of the premium priced Hangover Suites or gets a kick out of quoting the baby-toting character played by Zach Galifianakis when asking at the check-in desk, "Did Caesar live here?"
In that regard, it's more than just a matter of building more towers and cutting deals with restaurateurs or bringing in cool shows like the sexily hard-edged Absinthe (think of Cirque du Soleil with a bawdy undertone and entertainingly sleazy MC). But there is something attitudinal as well. "What's going on at Caesars is a giant overhaul to not just be current but to be cutting edge," says Anthony Curtis, publisher of Las Vegas Advisor and an unbiased observer of all things Vegas. "What they're doing will go hand-in-glove with the entire recovery of the economy. Caesars weathered the bad times, raised money and now stands out as a place that is moving forward."
Upgraded as Caesars may seem, to steal a line that Sinatra might have crooned in the casino's Circus Maximus Theater, the best is yet to come. Across the street, on the east side of the Strip, there's a less-than-stellar Caesars Entertainment hotel called Imperial Palace, and directly south, the Flamingo, also owned by Caesers. The plan is to rebrand and renovate Imperial Palace in addition to building a shopping and dining complex with a slow-moving Ferris wheel modeled after the London Eye between the Palace and the Flamingo. If things go as anticipated, that will be a new Las Vegas landmark and a profit generator to boot.
Inside Caesars, plans are well underway for a hotel within the hotel that may prove to be a game changer. It's dubbed the Nobu Hotel, run under the auspices of the famous Japanese chef Nobu Matsuhisa, and it will function as a high-service boutique hotel with only 180 rooms. Selesner figures that it represents the sweet spot between the old-and-affluent and the up-and-coming. "Go to Nobu in Malibu or the Hamptons, and who do you see there?" he asks. "Kids and guys like Larry Ellison. We're playing to both markets in a sophisticated way and firing on all 12 cylinders."
You must be logged in to post a comment.
Log In If You're Already Registered At Cigar Aficionado Online