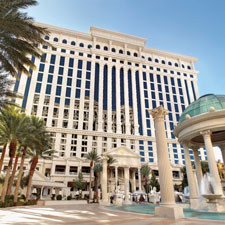 Caesars' new Octavius tower aims to bring the casino to the next level of luxury.
Conquering Caesars
Once outdated and outshined, Caesars Palace reclaims its glittering position as a world-class Las Vegas destination
The first time I visited Las Vegas was in the summer of 1979. Two boyhood friends and I stayed at a dump on the northern end of Las Vegas Boulevard. Of course, though, we ventured down to the Strip. Most of the memory resonates as a vague riot of neon, but Caesars Palace was a whole other story. It epitomized Las Vegas, with polished grounds, buzzy valets and muscled-up dudes dressed like Roman soldiers—not to mention the cocktail waitresses in their micro-mini togas. Then, like now, the main blackjack pit was illuminated by a constellation of crystal chandeliers. And for us, there was little question that right there was the eye of the Vegas hurricane.
For people with more money and sophistication, Caesars Palace was the ultimate Vegas playground. It featured a restaurant called the Bacchanal where wine flowed like water, so-called Goddesses gave you backrubs as you ate and if you wanted to show off, you ordered the Prime Colossus Sirloin Steak Pompeii. Female hotel guests wore evening gowns to the shows and the gaming tables. Men broke out their tuxedos. It was a place where you could easily run into Sinatra and his crowd blowing their paychecks at dice. Caesars was everybody's joint of choice. It was the luxest, plushest, highest rolling operation in Las Vegas that was just beginning to define itself for the coming century.
According to David Schwartz, author of the forthcoming book Grandissimo, which chronicles Caesars Palace and its founder Jay Sarno, Caesars heralded the launch of the modern mega casino. "Caesars opened [in 1966] and overnight it stole the high-roller thunder from the Sands and the Desert Inn," says Schwartz. "The way the casino was designed, it was the first fantasy architecture in Las Vegas. Everything else in town was a little modern and a little tacky. Caesars had fountains, reflecting pools, fantasy glamour. You drove up the entrance, past the cypress trees, and it felt like you were being transported back in time."
The effect remained fully there in '79—five years before Sarno would die in a high-roller-suite hot tub, post-coitus with a woman half his age. Five years after Sarno's passing, Caesars' domineering run would reach an end. Bigger, better, newer casinos sprang up. Clearly, Caesars' original owner had an eye for the outré spectacle—his original plan was to have a giant piranha tank in the center of  Bacchanal and to drop a live pig in there each night in order to amuse his diners—and its later owners did their share by bringing outdoor boxing matches and even an Evel Knievel show. But a young Steve Wynn had interesting thoughts of his own. Wynn's Mirage, which opened in 1989, would trump Caesars and emerge as the newest new place in Vegas.
Soon after, other mega casinos followed suit. The Bellagio, the Venetian, Mandalay Bay with its Four Seasons offshoot, the Hard Rock for sheer youth-quaking appeal, and the Wynn all seemed to out-Caesars Caesars. While the old joint maintained its die-hard customers and did what it could to keep up, young gamblers just weren't being drawn there as they had once been. It was no longer the brightest star in the desert. Though resonance remained in the name (intentionally spelled without an apostrophe, so as to connote that everybody staying there was a mini Caesar), the property began to seem tatty—especially if you had the misfortune, in recent years, of staying in the rundown Centurion Tower.
It seemed like a crummy way for such a classy place to go out.
Then something unexpected happened. Harrah's Entertainment bought Caesars Palace. Best known as a mid-brow operation that was technologically astute (with, incidentally, one of the most robust customer databases in the business), Harrah's was not exactly famed for its sky-high quality casinos. But Caesars was bought for precisely that purpose. Company management decided to polish this jewel in the corporate crown. "Caesars Entertainment Corporation [which is what the Harrah's group has been rechristened] is now a multibillion-dollar gaming company, the largest in the world, and this is their flagship casino," says Schwartz. "They have 10 properties in Las Vegas. How can Caesars not be one of the best places in town?"
According to Gary Selesner, president of Caesars Palace, that was precisely the plan when Harrah's bought the property in 2004. Since then there have been improvements and upgrades including the posh Augustus Tower in 2005 and the launching of Guy Savoy's fantastic, eponymous restaurant that same year. A Vegas incarnation of the East Harlem hot-ticket eatery Rao's fired up the ovens and Celine Dion kicked off a Caesars tradition of bringing in well-known entertainers for extended runs (Elton John and Rod Stewart have followed suit; Shania Twain is up next).
A poker room was installed, the sports book was upgraded and Qua Baths & Spa is a great place to unwind. Considering that Caesars missed the boat on Macau and Singapore—the two fastest growing gambling destinations in the world—Vegas has taken on added urgency. Gary Loveman, CEO of Caesars Entertainment, has stated that he "loses sleep every day" over his casinos being absent from those Asian markets.
But back home in Vegas, 2011 and 2012 mark a serious stepping up for Caesars. On New Year's Eve weekend, the hotel debuted its Octavius Tower, which does the luxurious Augustus, originally lauded for having the nicest rooms in town, a few better. Octavius is tricked out with up-to-the-minute technology (including an app for ordering room service, towels and your car), ultra-comfy beds and a private check-in area. Downstairs near the front desk, the tired coffee shop has been replaced by a 24-hour eatery manned by Michelin-starred chef Michel Richard. Fronted by a wine tower and a cool bar, it handily outdoes other round-the-clock options on the Strip.
You must be logged in to post a comment.
Log In If You're Already Registered At Cigar Aficionado Online