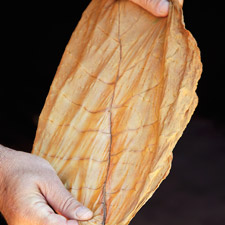 Connecticut Shade grown in the United States has tough competition from South America.
Secrets of Connecticut Shade
The hot new thing in the humidor is a wrapper leaf dating back more than 110 years
(continued from page 3)
Ashton's newest cigar brand, San Cristobal Elegancia, is made with Ecuador Connecticut wrapper. The Nicaraguan brand is a lighter version of the full-bodied San Cristobal line. Says Levin: "We wanted to come out with a lighter San Cristobal cigar to reach a different audience."
Along with Davidoff, Altadis U.S.A. Inc. has also built its foundation on Ecuador Connecticut. Altadis puts an Ecuadoran Connecticut wrapper on most of its premium brands. Montecristo, Montecristo White and Montecristo Classic all use the wrapper, as do Romeo y Julieta Vintage and Romeo y Julieta Reserva Real—top sellers in the company's premium portfolio.
"Ecuadoran Connecticut is a thin and delicate leaf that has a lovely tan color and a distinct flavor," says José Siejas, general manager for Tabacalera de Garcia Ltd., the factory in the Dominican Republic where most Altadis cigars are made. "The veiny leaf produces a smooth, even burn and white ash. It blends very well with Dominican and Nicaraguan fillers. I love working with the wrapper."
Altadis U.S.A. has more than 15 premium brands that use Ecuadoran Connecticut, the newest of which—Diamond Back—debuted at last year's tradeshow. The company has also seen a renewed interest in its VegaFina brand, a Dominican cigar rolled with Ecuador Connecticut wrapper. The brand has long sold well in Spain—the company claims that VegaFina is one of the top selling cigar brands in that nation—and it's now picking up speed in the United States.
"Connecticut-wrapped cigars have always  been very popular and very highly regarded among the majority of newer, as well as very educated and seasoned cigar smokers," says Janelle Rosenfeld, vice president of marketing for Altadis U.S.A. "True cigar connoisseurs love them, and for good reason. They often comment on the subtle, yet rich flavor complexities along with the pleasing smoking aroma and the lovely ash created by Ecuadoran Connecticut wrappers."
Consumers may indeed be looking for less powerful smokes, but it isn't quite that simple. At the same time, they're demanding a level of complexity and flavor previously not associated with milder tobacco. This poses a challenge for cigarmakers to blend around Connecticut Shade wrapper in such a way as to maximize its flavor potential. Mild for mild's sake is no longer enough. The idea of being both a mild cigar and at the same time flavorful may seem oxymoronic to some, but not to Christian Eiroa, a consultant to Camacho, a brand known for full-bodied smokes. He believes that he found the perfect middle ground when his company launched Camacho Connecticut a few years ago.
"The Camacho Connecticut has attracted new smokers to Camacho but we have also been able to keep the regular Camacho smokers," Eiroa says. "Camacho Connecticut was a hit from day one. I believe that the consistency of the look, taste and flavor of the Connecticut wrappers keep customers turning to these cigars. This blend is strong enough to not be mild, but at the same time mild enough to not be strong."
Regardless of Camacho's portfolio of powerful cigars, the company's best-selling cigar brand is a fairly mild Connecticut-wrapped smoke called Baccarat "The Game."
"Connecticut seed wrappers are by far still the most popular for us," Eiroa says. "Our Baccarat brand alone outsells every other cigar in the [Camacho] company. From our estimations, Baccarat "The Game" is one of the seven best-selling premium cigars in the U.S."
One of the most common criticisms levied against Connecticut Shade cigars is their lack of flavor. For many, it is difficult to go back to a Connecticut cigar once they've become used to heavier, stronger tobaccos, but brand owner Rocky Patel doesn't think that you have to necessarily sacrifice taste when blending a milder smoke. His Rocky Patel Vintage 1999 Connecticut brand uses a true U.S.A. Connecticut wrapper and is the best-selling cigar of all his Vintage series brands, including the darker, more powerful Vintage 1990 and 1992 cigars.
Comments
1 comment(s)
Charles Burns — May 6, 2012 10:05am ET
---
You must be logged in to post a comment.
Log In If You're Already Registered At Cigar Aficionado Online