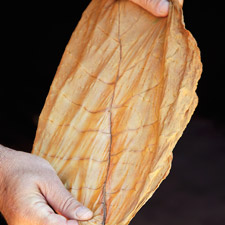 Connecticut Shade grown in the United States has tough competition from South America.
Secrets of Connecticut Shade
The hot new thing in the humidor is a wrapper leaf dating back more than 110 years
(continued from page 2)
"Wrapper used on the Macanudo Gold Label, for example, is hung for no less than 50 days and then put directly on the cigar without any fermentation. Much like a Beaujolais wine, the wrapper is harvested and consumed almost immediately. For other brands like Macanudo Café and Hoyo de Monterrey Excalibur, the leaves cure for a minimum of 60 days to achieve a richer, browner appearance."
After curing, the tobacco is put into bales and sent to the Dominican Republic for fermentation and, eventually, rolling.
Connecticut's 2010 crop was a stellar one, and the 2011 crop was bountiful as well, although with thinner leaves due to excessive rainfall. But growing in Connecticut is a high-risk, high-cost affair. Many cigar companies have turned to a cheaper alternative: Ecuador.
"Connecticut from Ecuador is much easier to work with, and one of the advantages is that you don't have to age it as long," says Perez-Carrillo. No stranger to the market or to tobacco, he is best known for establishing the La Gloria Cubana brand when it was a small operation out of Miami before being acquired by General Cigar. When Perez-Carrillo struck out on his own, he released various cigars with dark wrappers. Last year, however, he released a brand called E.P. Carrillo New Wave Connecticut that features a light, golden wrapper grown in Ecuador from Connecticut seeds. In less than a year, it became his best-selling brand. Not bad for what he calls his first "real try" with the wrapper variety.
Like New Wave Connecticut, most cigars on the market with Connecticut wrappers are really made with Ecuadoran cover leaf. The growing region of Ecuador is not only nutrient rich and pH balanced from the country's active volcanoes, but no netting, mesh or artificial shading is required—Ecuador's "shade" is the natural cloud cover that filters the sun. This fact, coupled with the low cost of labor and land in South America, makes Ecuador Connecticut a very attractive alternative to the pricier Connecticut Shade that is grown in the United States.
No cigar company better exemplifies the usage of Ecuador Connecticut than Davidoff of Geneva. The brand was originally Cuban, but once Davidoff's tobacco and production defected from Cuba to the Dominican Republic in the early 1990s, it used true Connecticut Shade wrapper from Connecticut. In 2001, however, the company switched its signature wrapper to Ecuadoran Connecticut. The reasons, offered by Davidoff's master blender Hendrik "Henke" Kelner were quite elementary: Ecuador Connecticut was less expensive, had a higher agricultural yield and required less fermentation time after barn curing.
Although they originated from the same seeds and look virtually identical, the Connecticut tobacco grown in Ecuador is different from that grown in the Connecticut River Valley. "Connecticut Shade tobacco from the [United] States starts out with a more bitter taste and takes longer to improve with fermentation and aging," says Kelner. "Ecuadoran Connecticut is more mild—neutral—and develops faster for use."
Kelner also added that several consecutive bad crops afflicted with blue mold from the Connecticut Valley diminished the quality of the tobacco and hastened the changeover from the U.S. to Ecuadoran tobacco. "There's no blue mold in Ecuador," he says. "With our blends, we have to follow and aim for what the consumer wants. The Connecticut Ecuadoran wrappers are used on the traditional blends, including those found on most Avo, Davidoff and Griffin's cigars. These brands were established more than 20 years ago."
For Davidoff, the appearance and taste of the Ecuadoran Connecticut wrapper has become its signature style. "We make about 17 million cigars with the Ecuadoran Connecticut wrapper per year," says Kelner. "Out of those, approximately 6 million cigars have the Davidoff name."
The wrapper used by Kelner comes from ASP Enterprises Inc., the largest supplier of Ecuadoran Connecticut to the premium cigar industry. ASP has been cultivating Connecticut seed wrapper in Ecuador since 1971. Most of it comes from Quevedo, a volcanic region in Ecuador's Los Rios province between Guayaquil and the capital city of Quito. The harvest season in Ecuador is a little later than in Connecticut, starting in July and going as late as December. ASP President David Perez has seen a bit of a spike in the demand for his wrapper.
"Ecuador Connecticut has a very oily, shiny appearance," says Perez. "But the taste is fairly neutral, so the manufacturers can do what they want in terms of blending."
Comments
1 comment(s)
Charles Burns — May 6, 2012 10:05am ET
---
You must be logged in to post a comment.
Log In If You're Already Registered At Cigar Aficionado Online