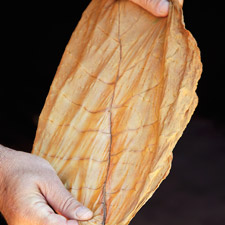 Connecticut Shade grown in the United States has tough competition from South America.
Secrets of Connecticut Shade
The hot new thing in the humidor is a wrapper leaf dating back more than 110 years
(continued from page 1)
"We're the leader in the Valley now," says Joe Thrall, a working owner of the O.J. Thrall business. "Fifty years ago there was 20,000 acres of shade-grown tobacco here in the Valley. Now, there's only about 1,000."
Thrall explained how a few bad growing seasons and a downturn market can very easily put a shade-grown farm out of business. "There's always a temptation to get out of this line," says Thrall. "And there are no newcomers to the shade-grown business. Most are dropping out, moving to broadleaf."
Connecticut Broadleaf is shade's darker, heartier cousin, and the tobacco is far easier and less expensive to grow than shade. It requires no tenting, growing in the open sunlight, and the entire plant is harvested in a single chop at the base of the stalk. The dark wrappers are used on maduro cigars. By contrast, Connecticut Shade is a very expensive, high-maintenance plant.
Every last leaf must be tented with a nylon mesh netting (thus the term "shade") which simulates cloud cover, filtering the sun so that the leaves stay delicate yet flavorful without becoming too thick, dark or nicotine dense. The shade-grown harvest itself is also very labor-intensive, as the leaves are picked in groups of three leaves known as a priming, working up from the bottom. In one day, field workers will only pick and hang a few primings of the plant. The process can take two months.
While all Connecticut Shade is grown from what is now called Connecticut seed, there are variations of that type of tobacco.
A research and seed development center in Connecticut is constantly crossbreeding and germinating different varietals to find the perfect hybrid of size, color, texture, flavor and disease resistance. From a horticultural standpoint, General uses two seed varieties, 8212 and 211, both yielding slightly different results. The 8212 seed was first planted in the Valley in 1982. It produces a large, disease-resistant wrapper and is the most consistent with every planting. The 211 strain is planted early in the season, after the fields have rested. It is an older seed variety, sprouting smaller but flavorful tobacco leaves that turn an attractive golden brown once cured.
The Valley has been producing tobacco for more than 300 years. With its sandy soil and warm micro climate, the land exhibits a perfect water table, providing natural drainage and good aeration—saturated soil without adequate drainage causes the plants to rot.
Because every harvest depletes the soil of necessary nutrients, growers have to replenish the fields after the harvest. Thrall uses about 4,000 pounds of organic cotton seed meal fertilizer per acre. Phosphorus and nitrogen are a few examples of added elements required to keep the land fertile, but the ratios have to be correct to get the proper results.
"Disproportionate amounts of any component will change the properties of the leaf, rendering it too green or yellow, or affecting the leaf's ability to burn," says Ernest Gocaj, General Cigar's tobacco leaf buyer, and former onsite manager for tobacco operations.
Seedlings are planted in small trays and left in a greenhouse to germinate. After the plant is three to five inches tall, it is then transported to the growing fields, usually around mid-May. The primings begin in early July and the harvest ends in September.
After the shade leaves are picked from the stalks, they are transported to curing barns, where each leaf is hung to dry. "Curing time depends on the future of the leaf," says Gocaj.
Comments
1 comment(s)
Charles Burns — May 6, 2012 10:05am ET
---
You must be logged in to post a comment.
Log In If You're Already Registered At Cigar Aficionado Online