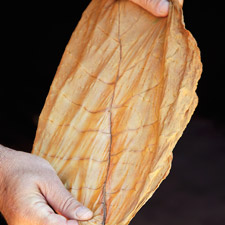 Connecticut Shade grown in the United States has tough competition from South America.
Secrets of Connecticut Shade
The hot new thing in the humidor is a wrapper leaf dating back more than 110 years
For more, see Slideshow: Harvesting Connecticut Wrapper
Since Connecticut's first tobacco tent was pitched in 1900, the sandy, loamy soils of the Connecticut River Valley have been carefully cultivated to produce high-quality wrapper leaves known as Connecticut Shade, a venerable tobacco now synonymous with mild flavor. Acres of screen-like netting cover entire fields of crops, filtering the sun's rays to make the tobacco easygoing and approachable, a perennial crowd-pleaser. And while the demand for strong smokes is on the rise, a curious counter trend in the industry has inspired many companies to release blends wrapped in Connecticut tobacco.
"Connecticut has grown in popularity, because it blends beautifully with almost all tobacco," says Ernesto Perez-Carrillo, president of E.P. Carrillo Cigars. "And though most people think it doesn't add anything to the blend, it complements and rounds out the smoke perfectly. I'm seeing a lot of brands coming out with a Connecticut wrapper because there is a demand for a milder smoke, and today's cigar smoker wants to experience different blends."
Last year, many premium cigar makers addressed the trend by releasing a coterie of toned down lines and milder brand extensions made with Connecticut wrappers.
From large companies such as Altadis and Ashton to smaller companies like E.P. Carrillo, the industry has taken notice and responded. Gurkha just released a Connecticut line called The Royal Challenge, 601 put out its White Label Connecticut, Room 101 Connecticut debuted last summer, and Oliva Cigar Co. expanded on its popular Connecticut Wrapper Reserve by adding a petit corona and a toro tubo to its lineup. Berger & Argenti, Martín Family of Cigars and Pinar Del Río have also introduced Connecticut lines.
The trend is not at all surprising to Sathya Levin, vice president of Ashton Distributors Inc. The company's two biggest sellers by volume, Ashton Classic and Ashton Cabinet Selection, are wrapped in Connecticut Shade. "From our vantage point," he says, "the demand for Connecticut Shade cigars has always been strong."
Whether the audience is made up of power smokers looking for lighter alternatives or longtime fans of mild cigars, they are no doubt familiar with the brand portfolio from General Cigar Co. The company's vast range of cigars wrapped in Connecticut appeals to beginners while also keeping a following among seasoned smokers thanks to its consistency.
"Connecticut Shade cigars do so well because the tobacco is synonymous with quality, consistency and nuanced flavor from a taste perspective," explains Bill Chilian, marketing director for General. "Not only does Connecticut Shade appeal to a wide range of smokers, it is also versatile when it comes to the blending process, allowing the cigar maker to develop unique tastes for the consumer."
General's largest cash cow—the Macanudo brand—is defined by its light, effervescent Connecticut Shade wrapper. According to Chilian, Macanudo continues to be the company's best-selling brand.
General, a company whose Connecticut varieties include Macanudo Café, Macanudo Gold Label, Macanudo Vintage, Macanudo Robust, Excalibur, Sancho Panza and Helix, has made quite an investment in the Valley's growing region to ensure its hallmark quality and consistency. General is the largest customer of O.J. Thrall, a private agricultural company renowned for its vast acreage of shade-grown tobacco.
Comments
1 comment(s)
Charles Burns — May 6, 2012 10:05am ET
---
You must be logged in to post a comment.
Log In If You're Already Registered At Cigar Aficionado Online