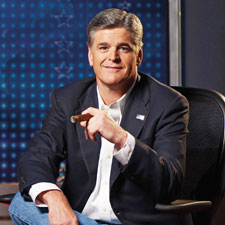 Sean Hannity doesn't often have time for relaxing with a cigar, but before he hits the first ball when he's playing golf, he lights one up.
Telling It Like It Is
Sean Hannity has led Fox News to the No. 1 slot on television with his unflinching conservative beliefs
(continued from page 3)
Observes Shine, "People would be shocked at what a low-key, boring life Sean leads. If he's not on TV or the radio, he's doing something with his family."
Though he's written three best-selling books of political commentary (the most recent being 2010's Conservative Victory: Defeating Obama's Radical Agenda), he's got no plans to write another one. "I swore I wouldn't do that again because that's time that I have to take away from being with my kids," he says. "I'm proud of all my books—but my bread and butter is broadcasting."
Broadcasting is what ultimately lured him away from college. At various points, Hannity was enrolled at Adelphi University, New York University and Rhode Island Tech, finishing three years of school before putting it aside to pursue his broadcasting dream.
"My sister thought I was crazy," Hannity says. "She made me promise to give radio two years and if I didn't make it, then I'd go back to school and become a lawyer. I'm so glad I didn't do that. I mean, I made the dean's list; I was studying economics and political science. But I never liked school. I was a good student in college but I never liked it. I study and read more now than I ever did then. I probably compress two years' worth of reading into each year, just with my daily work."
His research convinces him that there's nothing wrong with the economy that a certain brand of free-market capitalism can't cure. He takes his cues about the economy from what he fondly remembers as "the Reagan revolution," and likes the ideas of presidential candidate Newt Gingrich and U.S. Representative Connie Mack (R-FL).
"The free-market economy works," Hannity says. "Look, I'm a conservative for a reason. Conservatives believe in the simple but deeply profound principle that government is too big and bloated; it's out of control. One path I endorse is the one Connie Mack of Florida proposed: the Mack Penny Plan. We would freeze government spending at 2011 levels and then cut 1 percent per year for six years. And then, if we kept spending at 18 percent of GDP, we would have a balanced budget in eight years. If we tried that—if we followed the model Newt created with his Contract With America, the one we followed during the Reagan revolution—well, better days lie ahead."
Gingrich and the rest of the field of Republican presidential candidates are regulars on Hannity's show. Still, there are some guests he simply can't convince to appear—like former President Bill Clinton.
"He's a very interesting man," Hannity says. "For all my criticisms during the Clinton years, he had so much political experience. When 'Hillary-care' (the Clinton healthcare plan) went down, he was smart enough to say, 'The era of big government is over.' "
He also hasn't been able to tempt President Barack Obama on to his show. Though Obama sat for an interview with Hannity's FNC colleague Bill O'Reilly shortly after his election, Hannity so far has been unable to convince the president to take his questions.
"Obama won't come on," he says. "I think I've been proven right—that he's a failure as a president and in over his head. The indications are out there. If the press worked as hard on that as they did on the whole Herman Cain sexual harassment issue, people would understand that. Obama called every Republican out, saying that the Republican plan is for dirty air and dirty water. But that's the desperate propaganda campaign of a president who has failed to deliver on his promises. I think the 2012 election won't even be close; he won't be reelected. But I don't underestimate the Republicans' ability to lose it."
Comments
7 comment(s)
Bill Carrington — New Jersey, U.S.A., — March 22, 2012 3:52pm ET
---
Christy.Melchiors@st-group.com — March 22, 2012 9:48pm ET
---
Donny Payne — March 23, 2012 12:43am ET
---
Gary G. — Southern California, — March 23, 2012 9:23am ET
---
John Rohrer — Las Vegas, NV., USA, — March 23, 2012 10:15am ET
---
RT Elkin — Coram, NY, 11727, — March 25, 2012 6:23pm ET
---
Stephen Allen — Lake Stevens, Washington, USA, — March 28, 2012 12:12am ET
---
You must be logged in to post a comment.
Log In If You're Already Registered At Cigar Aficionado Online