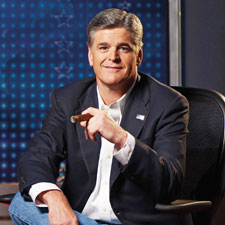 Sean Hannity doesn't often have time for relaxing with a cigar, but before he hits the first ball when he's playing golf, he lights one up.
Telling It Like It Is
Sean Hannity has led Fox News to the No. 1 slot on television with his unflinching conservative beliefs
(continued from page 2)
Growing up blue-collar, he worked steadily from the time he was old enough to handle the rigors of a newspaper route: "I learned from my parents that you worked hard," he says. "That was the best thing that ever happened in my life—it contributed to my work ethic. I always had my own money and always knew the value of a dollar."
He also learned the value of a newspaper. Delivering everything from the Long Island Press to the New York Daily News, Hannity would start his early-morning route by first sitting down and poring over the paper for the news of the day. It's a habit that dies hard; these days, after he gets his kids off to school in the morning, he settles in to read that day's newspapers as part of his preparation for his upcoming radio and TV shows.
"I read the Daily News, the New York Post—I stopped reading the New York Times—the Wall Street Journal, USA Today, and then my next stop is the Drudge Report," he says. "I still love the feel of a newspaper." In high school, Hannity was a three-sport athlete, standing out in hockey and as a pitcher in baseball—and having enough time, as he puts it, to be "a troublemaker." What sort of trouble?
Hannity smiles, then demurs: "My kids will read this," he says. Then, thinking about it, he decides there is one thing he'll mention: cigars. He'd sneak cheap ones in the high school bathroom, he says; these days, his tastes are more mature. "I don't play golf a lot, but before I ever hit a ball it's time to smoke a cigar," he says. "I like strong cigars—I particularly like Ashtons in the maduro wrapper. I enjoy a Davidoff once in a while, or a Cohiba. Someone gave me a number of Padrón 1964 Anniversaries—that's a pretty strong cigar, but I liked it. And I enjoy the end much more than the beginning."
Hannity owns four humidors, including one in his office at Fox. He keeps two at a friend's house "so my kids don't know. That's where I do a lot of my smoking."
Says Elise Sabbeth, Hannity's assistant, "I've been on many a trip to the cigar store for him, for cigars and for distilled water for his humidor. That's when he decided to keep me."
Adds Hannity, "Really, I don't have a lot of free time—but on a nice summer night, when we have friends over, I'll have one. I do hide it from my kids because I don't want them to say, someday, 'Dad, why can't I smoke? You do.' " He laughs, then adds, "Actually, that's total hypocrisy. But then, I hide the rest of my youth from my kids, too."
Such as? Hannity smiles—but he's not saying. "Put it this way: I give myself a pass for every dumb, stupid thing I did until I was 23 and found Jesus," he says. And if his kids, at some point in the future, got into similar trouble? "I'd kill 'em," he says with mock severity, adding, "That's why they're not going to see this story."
His children, in fact, occupy most of the time he has when he's not working. He's built his work schedule so that he has the flexibility to spend time with them in the morning before school—and his radio studio is close enough to his Long Island home that he can be home with them in the afternoons, before he heads for Manhattan to do his TV show each night.
"Most of my spare time is spent shagging tennis balls for my kids or doing something else with them," he says.
Comments
7 comment(s)
Bill Carrington — New Jersey, U.S.A., — March 22, 2012 3:52pm ET
---
Christy.Melchiors@st-group.com — March 22, 2012 9:48pm ET
---
Donny Payne — March 23, 2012 12:43am ET
---
Gary G. — Southern California, — March 23, 2012 9:23am ET
---
John Rohrer — Las Vegas, NV., USA, — March 23, 2012 10:15am ET
---
RT Elkin — Coram, NY, 11727, — March 25, 2012 6:23pm ET
---
Stephen Allen — Lake Stevens, Washington, USA, — March 28, 2012 12:12am ET
---
You must be logged in to post a comment.
Log In If You're Already Registered At Cigar Aficionado Online