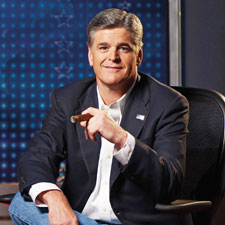 Sean Hannity doesn't often have time for relaxing with a cigar, but before he hits the first ball when he's playing golf, he lights one up.
Telling It Like It Is
Sean Hannity has led Fox News to the No. 1 slot on television with his unflinching conservative beliefs
(continued from page 1)
"The free-market economy works," Hannity says. "Look, I'm a conservative for a reason. Conservatives believe in the simple but deeply profound principle that government is too big and bloated; it's out of control. One path I endorse is the one Connie Mack of Florida proposed: the Mack Penny Plan. We would freeze government spending at 2011 levels and then cut 1 percent per year for six years. And then, if we kept spending at 18 percent of GDP, we would have a balanced budget in eight years. If we tried that—if we followed the model Newt created with his Contract With America, the one we followed during the Reagan revolution—well, better days lie ahead."
Gingrich and the rest of the field of Republican presidential candidates are regulars on Hannity's show. Still, there are some guests he simply can't convince to appear—like former President Bill Clinton.
"He's a very interesting man," Hannity says. "For all my criticisms during the Clinton years, he had so much political experience. When 'Hillary-care' (the Clinton healthcare plan) went down, he was smart enough to say, 'The era of big government is over.' "
He also hasn't been able to tempt President Barack Obama on to his show. Though Obama sat for an interview with Hannity's FNC colleague Bill O'Reilly shortly after his election, Hannity so far has been unable to convince the president to take his questions.
"Obama won't come on," he says. "I think I've been proven right—that he's a failure as a president and in over his head. The indications are out there. If the press worked as hard on that as they did on the whole Herman Cain sexual harassment issue, people would understand that. Obama called every Republican out, saying that the Republican plan is for dirty air and dirty water. But that's the desperate propaganda campaign of a president who has failed to deliver on his promises. I think the 2012 election won't even be close; he won't be reelected. But I don't underestimate the Republicans' ability to lose it."
Is that because of what has become an almost-two-year-long presidential campaign? The numerous Republican hopefuls for the presidential nomination, after all, spent as much of 2011 savaging each other as they did their eventual opponent, Obama.
"I like the longer process," Hannity says. "I want to see the candidates tested. Whoever the Republican candidate is will have a billion dollars thrown at them in negative ads by a desperate White House that can't run on its record. So they're getting a sense of how brutal the campaign is going to be. I would argue that all this is healthy. Every candidate has had troubles. But this is T-ball compared to the 100-mph fastballs in the general campaign.
"I've had calls from people, saying that it's time for me to get behind somebody. Right now I'm undecided—but I'm looking for the most conservative candidate out there."
Would Hannity ever consider running for office? FNC's Shine says, "I couldn't imagine Sean within the confines of a House of Representatives or a U.S. Senate."
Hannity, however, says, "I rule nothing out. But, off the top of my head, do I want to run? No. If I can keep doing this and stay energized and happy, I'll be a blessed man."
Hannity pauses, then considers the question of whether he ever gets tired of the sound of his own voice. "You should see me in private life—I'm a quiet guy," he says. "But no one would believe that."
Contributing editor Marshall Fine writes about movies and entertainment on his website, www.hollywoodandfine.com.
Comments
7 comment(s)
Bill Carrington — New Jersey, U.S.A., — March 22, 2012 3:52pm ET
---
Christy.Melchiors@st-group.com — March 22, 2012 9:48pm ET
---
Donny Payne — March 23, 2012 12:43am ET
---
Gary G. — Southern California, — March 23, 2012 9:23am ET
---
John Rohrer — Las Vegas, NV., USA, — March 23, 2012 10:15am ET
---
RT Elkin — Coram, NY, 11727, — March 25, 2012 6:23pm ET
---
Stephen Allen — Lake Stevens, Washington, USA, — March 28, 2012 12:12am ET
---
You must be logged in to post a comment.
Log In If You're Already Registered At Cigar Aficionado Online