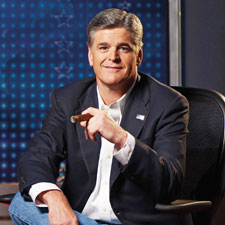 Sean Hannity doesn't often have time for relaxing with a cigar, but before he hits the first ball when he's playing golf, he lights one up.
Telling It Like It Is
Sean Hannity has led Fox News to the No. 1 slot on television with his unflinching conservative beliefs
(continued from page 1)
"I never had a grand plan," Hannity says. "I never thought (FNC president) Roger Ailes would take a chance on a local radio host from Atlanta and put him on TV—and then stick with me when I was not very good. But these things happened."
Hannity was an itinerant talk show host working as a primetime radio personality in Atlanta, when Ailes discovered him. Ailes, the former Republican media consultant hired by News Corporation's Rupert Murdoch to create an all-news cable network to challenge CNN, teamed the conservative Hannity with the more liberal Alan Colmes for "Hannity & Colmes," for a dueling-viewpoint evening talk show.
"Hannity & Colmes" went on the air in the 9 p.m. (ET) slot on FNC on the network's first day in 1996—and, 15 years later, "Hannity," minus Colmes (who left to do his own projects in early 2009), still holds down that 9 p.m. timeslot—and regularly beats the competition.
Going solo, Hannity says, only made sense. While he calls Colmes "a dear friend for whom I have a deep respect," sharing airtime with him could be frustrating—if only because Hannity always felt he had more to say than time to say it. "I'm more interested in thoughtful conversation," he says. "But the two-man format didn't lend itself to that kind of discussion. This format lends itself to less interruption. As a result, I feel I can listen better."
With Colmes and now without him, Hannity remains the only political commentator on the Fox News Channel whose tenure with the network matches the network's lifespan. "I don't analyze my longevity—and I don't analyze my success," Hannity says. "I was hired to do, not a good job, but a great job—to get ratings and do a good show every night. "In the back of my mind every night is the thought that I might be doing my last show, that somebody is going to catch on to the fact that I never should have been hired. The first six months I was on TV, I was terrible."
William Shine, senior vice president for programming at FNC and former producer of "Hannity & Colmes," says, "Sean didn't have a lot of experience when he started. Now he's a seasoned veteran. The key was that he eventually became comfortable being in a big, bright room with large cameras and people walking around. That's not a natural environment. An office is a natural environment; a TV studio isn't."
The key to Hannity's appeal, Shine says, is that "he's very honest with himself and he's very true to his convictions. He means what he says. He's a rock-solid conservative."
Which comes naturally to the Long Island–reared Hannity: "My parents were very conservative," he says. "When I was growing up, they had a picture of JFK on their dresser—but the Democratic Party left the values of JFK and moved farther to the left. The greatest influence on me was Ronald Reagan. I followed the news everyday and he inspired me. I cast my first vote for Reagan."
Indeed, listening to conservative talk radio in the 1970s and 1980s showed Hannity his path in life.
"My vice then was that I was a night owl and I would listen to talk radio," Hannity says, sitting in his office, decorated with pictures of his two kids, Patrick, 13, and Merri Kelly, 10, and photos of Hannity with celebrities (including one with him, Ailes and former President George W. Bush). "And these guys were the pioneers: Barry Farber, Barry Gray, Bob Grant. I used to call in to their shows. This was during the Iran-Contra hearings and I'd watch those all day—then I'd call in to these radio shows. And I would usually take over the show. I was in the middle of finishing my college degree, but I thought that this was what I wanted to pursue. The first time the light went on and the microphone went live, things just poured out of me."
Comments
7 comment(s)
Bill Carrington — New Jersey, U.S.A., — March 22, 2012 3:52pm ET
---
Christy.Melchiors@st-group.com — March 22, 2012 9:48pm ET
---
Donny Payne — March 23, 2012 12:43am ET
---
Gary G. — Southern California, — March 23, 2012 9:23am ET
---
John Rohrer — Las Vegas, NV., USA, — March 23, 2012 10:15am ET
---
RT Elkin — Coram, NY, 11727, — March 25, 2012 6:23pm ET
---
Stephen Allen — Lake Stevens, Washington, USA, — March 28, 2012 12:12am ET
---
You must be logged in to post a comment.
Log In If You're Already Registered At Cigar Aficionado Online