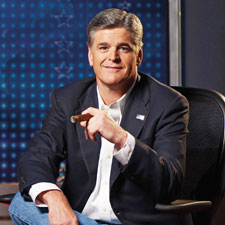 Sean Hannity doesn't often have time for relaxing with a cigar, but before he hits the first ball when he's playing golf, he lights one up.
Telling It Like It Is
Sean Hannity has led Fox News to the No. 1 slot on television with his unflinching conservative beliefs
It's an early November night backstage at Fox News Channel, as Sean Hannity sits in the makeup chair, a playful scowl on his face as pancake is applied to his cheeks and forehead: "I'm not a makeup guy," he says, enduring the attention.
It's a few days after Halloween, a mention of which brings a quick reaction from Hannity: "I hate that holiday," he says. "It teaches kids to be a liberal—going door to door, with their hand out." He pauses; when others seem to take him seriously, he laughs and says, "That's supposed to be a joke."
He banters with Fox commentator Dana Perino, the former White House press secretary to George W. Bush. And then a special guest walks in: country-music star Brad Paisley, who will prerecord an interview about his new book, Diary of a Player, that will air on "Hannity" a couple of weeks later.
The two greet each other as old friends: the Country Music Association entertainer of the year for 2010 and the conservative firebrand who has helped the Fox News Channel gain a stranglehold on the top of the cable ratings since the network went on the air 15 years ago.
"Hey, did I tell you about my idea for a video, with you and Michael Moore fishing together?" Paisley says.
The two laugh about the unlikely pairing of political polar opposites, and then Hannity heads for the studio to tape another segment ahead of his chat with Paisley. As he waits for his guests to be led to their seats, Hannity turns to the floor director and quips, "What if I have nothing to say?"
Fat chance. Sean Hannity has been talking for a living for most of his adult life, spending the past 15 years as the star of an evening political commentary show on FNC. On any given weekday, besides the hour he devotes to being ringmaster of "Hannity," he also spends three hours on the radio, hosting his highly rated, nationally syndicated talk show.
Which raises the question: Does Sean Hannity ever get tired of the sound of his own voice? Hannity, a boyish 50-year-old with salt-and-pepper hair and dark brown eyes, laughs at the notion.
"No—and it's a funny thing," he says. "The mike goes on and it just comes out. You're just in this other place. And I'm happy being in that place."
It's not a place he ever expected to be: as a brand-name for a certain kind of red-meat political commentary, reaching millions of viewers each night on a cable network that is loved and hated, depending on which end of the political spectrum you sit.
Comments
7 comment(s)
Bill Carrington — New Jersey, U.S.A., — March 22, 2012 3:52pm ET
---
Christy.Melchiors@st-group.com — March 22, 2012 9:48pm ET
---
Donny Payne — March 23, 2012 12:43am ET
---
Gary G. — Southern California, — March 23, 2012 9:23am ET
---
John Rohrer — Las Vegas, NV., USA, — March 23, 2012 10:15am ET
---
RT Elkin — Coram, NY, 11727, — March 25, 2012 6:23pm ET
---
Stephen Allen — Lake Stevens, Washington, USA, — March 28, 2012 12:12am ET
---
You must be logged in to post a comment.
Log In If You're Already Registered At Cigar Aficionado Online