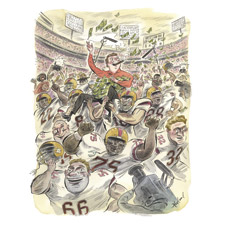 Illustration/Gary Hovland
The Biggest Bet in Sports
More money—legal and illegal—is bet on the Super Bowl than any other sporting event, and we have tips to help you profit on this year's big game.
(continued from page 1)
Rule No. 2 Total points wagering (the combined score of both teams) has become the second-most-popular Super Bowl wager. When offensively powerful teams are meeting, bet the Under, as offensive juggernauts tend to play conservatively, feeling they can score whenever they want. Also factor in that many teams are tight in the first half and often only open up after they have felt the other team out. Wagers on total points have run dead even in Super Bowls, 22-22, as there was not a posted  Over/Under total on the first Super Bowl.
An offensive explosion was predicted in Super Bowl XLIV (January 2010) when the league's two highest scoring teams, the New Orleans Saints and the Indianapolis Colts, met. The total was set at 56 1/2 points (the highest in Super Bowl history) but the Under was a winner, as the Saints won 31-17. And the halftime score was only 10-6.
Conversely, if two defensive-dominated teams play, bet the Over. When you have defensive giants meeting, the
offenses tend to open up. They figure that any scoring will help their defense win the game and they are not as apt to fear making mistakes. It's hard to stop a Super Bowl team that opens up its offense, which means more scoring.  It can also mean more turnovers, which again leads to more scoring. Last year's Super Bowl featured two of the league's best defensive stalwart units: Green Bay and Pittsburgh. The total Over/Under was 45 points with Green Bay winning 31-25. Five of the last seven Super Bowls have gone Under.
Rule No. 3 Avoid proposition bets. These are sucker bets for neophytes, and people lose money on them in every Super Bowl. The only time the public has ever won a lot of money on a prop bet was in Super Bowl XX between the Chicago Bears and New England Patriots. The opening odds for William "The Refrigerator" Perry to score a touchdown were 12:1. By kickoff, they were 2:1, as everybody bet on him to score, which he did. Overall, however, the public still lost money on proposition bets in Super Bowl XX, and they will lose money on prop bets in this year's Super Bowl, too.
Rule No. 4 At halftime the bookies post a new point spread for the second-half action. Always bet the team at halftime that you think will beat the original line on the Super Bowl—the team that has beaten the game's opening pointspread has also beaten the halftime spread in 16 of the last 18 Super Bowls. If you are at home, time will be of the essence, so have your cell phone charged or your computer ready or your wife or girlfriend out shopping if you want to place a halftime wager.
Danny Sheridan is a sports analyst for USA Today, for which he provides the daily updated odds on all sporting events for its website.
You must be logged in to post a comment.
Log In If You're Already Registered At Cigar Aficionado Online