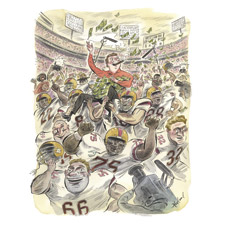 Illustration/Gary Hovland
The Biggest Bet in Sports
More money—legal and illegal—is bet on the Super Bowl than any other sporting event, and we have tips to help you profit on this year's big game.
Placing a big bet on America's biggest game is on the rise. Super Bowl wagering in  Nevada has been on a steady uptick for the past two years. After a drop during the 2007 to 2009 recession, it climbed to $82.7 million in 2010, and rose to almost $87.5 in the fiscal year that ended June 30, 2011. But that's only part of the story. Offshore Super Bowl wagering has been climbing uninterrupted by the economy. An anonymous Costa Rican sports book owner told me that while the 2007 recession had a small impact on bets placed during the regular season, his Super Bowl business has risen annually for decades.
Since it was first played in 1967, the Super Bowl has evolved into the single biggest sports betting event of the year. There is no close second or third (at least until someone puts up a line on whether Kim Kardashian's next marriage will last longer than 72 days), which is the main reason it's the highest-rated television show every year.
I conservatively estimate that more than $8 billion will be illegally wagered on this year's Super Bowl, with more than one half of the U.S. adult population having a bet on the game. This includes bets with U.S. and offshore bookmakers, wagers made over the Internet, office pools, person-to-person bets, and Super Bowl parties. And I think the legal wagering in Nevada will exceed last year's $87.5 million handle.
Jay Kornegay, vice president of race and sports operations for the Las Vegas Hilton, expects proposition bets—wagers placed on which team or player will be first to score, number of field goals in the game, even the winner of the coin toss—to increase this year.
"In the past, proposition bets made up 10 percent of our overall Super Bowl handle," Kornegay says. "Today it comprises 50 percent." The public makes a slew of prop bets to help stay entertained throughout the game, and experts such as Kornegay are expecting more than 300 proposition bets this year, compared to only 25 to 50 in the past.
The world of sports betting has been completely transformed over the past 40 years. In 1969, there were only 12 sports books in Nevada with a total betting handle of $395,000. Now the number has grown to 187 sports books. Last year they managed more than $2.7 billion in bets, close to half of it (44.4 percent) wagered on college and pro football.
Breaking those numbers down further, it's the Super Bowl that is leading the betting mania. "People bet 10 times as much on the Super Bowl as they would on any other game," says Robert Walker, the former Race and Sports Book Director of the MGM Mirage Group, the biggest sports book chain in Nevada.
Some of those bets are made in advance, of course, but the biggest action comes on the big day. One of the largest offshore sports book owners told me that 95 percent of his Super Bowl action comes on the day of the game. "The phones never stop ringing. Everyone handling phone bets eats at their desk that day from sun up until the halftime wagering is over," he says. Sounds like a job cholesterol-challenged coaches Rex and Rob Ryan would be wise to avoid.
At press time Cigar Aficionado did not know which teams would compete in Super Bowl XLVI, but we can give you some tips on how to bet the game. I have correctly picked the last 10 Super Bowl pointspread winners, nine of the last 10 totals, and nine straight halftime lines (I did not pick last year's halftime line). Follow the four rules listed here and they will help you wager correctly and win money on the Super Bowl.
Rule No. 1 Ignore the point spread, as it is practically a nonfactor. The winner of the Super Bowl has failed to beat the spread only six times. (Green Bay was giving three last year against Pittsburgh, and they won the game and beat the spread, the same as in 2010, when the Saints, who were four-point underdogs, beat the spread and the Colts.) That's a record of 36-6-3, an amazing 88 percent. So wager on who you think will win the game. Super Bowl favorites are 23-19-3, so there are no trends there.
You must be logged in to post a comment.
Log In If You're Already Registered At Cigar Aficionado Online