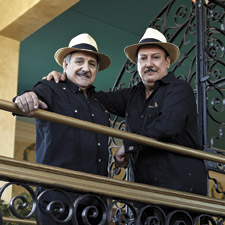 Carlos Fuente Sr. and Carlos Fuente Jr., the cigarmaking team behind the brand.
One Hundred Years of Fuente
As the Arturo Fuente brand turns 100 this year, the family dynasty commemorates its many triumphs, always remembering that the road to success presented challenge after challenge
(continued from page 5)
And all this success has inspired the family to give back. The community around Chateau de la Fuente is very poor, and for many years locals had to walk far to get drinking water, which was often contaminated. In 2001, Fuente joined with the Newmans to create the Cigar Family Charitable Foundation to help the poor of the Dominican Republic, particularly those who live around their farm. Putting in stations for clean water was an early project. Then came a school, first at the elementary level, then at the high school level. Watching the children whose lives have been improved by the school is inspiring for any visitor.
"My cigars, my life, my family, my love," said Fuente Jr., lighting his OpusX on stage before a sold-out crowd at the Big Smoke Las Vegas, calling his sister Cynthia, daughter Liana and Fuente executive Wayne Suarez to sit by his side. "My family has gone through a lot, and that's what I think is the strength that holds our family together."
Every night, when his work is finally done, Fuente Sr. sits down with a glass of Chivas and smokes three cigars before he goes to bed. He once slept only a few hours a night—there was so much to do in the day—but today he sleeps a bit better.
"After all these years I never dreamed I would be living when the company was 100 years old," he says with a nod of his head. "If you want to be successful, you can't look back. You have to do something you love. And the cigar business is something I love."
You must be logged in to post a comment.
Log In If You're Already Registered At Cigar Aficionado Online