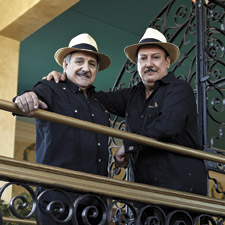 Carlos Fuente Sr. and Carlos Fuente Jr., the cigarmaking team behind the brand.
One Hundred Years of Fuente
As the Arturo Fuente brand turns 100 this year, the family dynasty commemorates its many triumphs, always remembering that the road to success presented challenge after challenge
(continued from page 4)
Most people in the cigar industry believe that Fuente Sr. blended his company's renowned Arturo Fuente Don Carlos line, but he gives all the credit for Fuente's blends over the past 30 years to his son. "Carlito did all the blends," he says. Fuente Jr. has uncanny skills as a blender. He is able to make a complex, balanced and subtle smoke (such as Don Carlos), vibrant, aggressive and spicy cigars (the Fuente Fuente OpusX) as well as many things in between (the new A. Fuente Rosado Sungrown line).
Fuente makes many, many blends and brands, including some for J. C. Newman Cigar Co., based in Tampa. In 1986 Fuente joined with the Newman family: Fuente Sr. asked J. C. Newman's Stanford Newman to take over production of the company's machine-made cigars. Newman asked Fuente to make him handmades in return. Newman died in 2006, but the relationship is strong to this day as the Newmans and Fuentes share distribution and still make cigars for one another, including the highly rated Diamond Crown series of cigars.
"We make so many different blends. Different brands. Different styles. Different tastes. But over decades, they're consistent," says Fuente Jr. "That's one of the things I'm most proud of." Robert Levin concurs: "The Fuentes can come up with 50 different blends and they're all going to be good, and they're all going to be different."
All this innovation and success came with a price. The Fuentes became a target. The mid-1990s were crazy days in the cigar industry. Cigar companies that had struggled for decades to sell cigars suddenly found themselves with more orders than they could fill. The cigar business is quite unlike most others in that the process of expanding production is limited by tobacco inventories and how many trained hands can be marshaled to shape those leaves into cigars.
In the heady days of the cigar boom, opportunists flocked to the Dominican Republic seeking tobacco and cigars. They bought raw leaf from fields and hired away cigar rollers, making established companies suffer. Those rollers at Fuente who were able to craft Hemingways were recruited particularly hard. Fuente lost roller after roller. "We lost 500 cigarmakers one year," says Fuente Jr. Training workers only to have them stolen away is an expensive proposition, so Fuente Jr. created a unique program, dubbed Operation Blank Slate, that offered a measure of protection.
The Fuentes sought out workers who hadn't made cigars before. They were trained to make cigars slowly, carefully, in a style known as entubado, in which the roller creates a tube with each leaf. It's slower than the standard Dominican methods of cigar production, where tobacco leaves are made into S-shapes giving the bunch a look similar to an accordion. Fuente wanted the rollers to make beautiful cigars but to make them slowly—if someone was to steal them away, they wouldn't be able to work in typical piecemeal style.
The Fuentes most popular cigar also went into the crosshairs. In 1996, the Opus One winery (which was a venture between Robert Mondavi Corp. and Baron Philippe de Rothschild S.A.) sued the Fuentes over the name OpusX. It was a two-year legal battle that cost each side millions in lawyers' fees. The Fuentes won the suit in July 1998.
An even greater challenge to Fuente Fuente OpusX came in 1998 when Hurricane Georges raced across Hispañiola, killing nearly 400 people in the Dominican Republic and tearing down 17 massive curing barns on Chateau de la Fuente. Only two were left unscathed. The Fuentes rebuilt, holding on to Fuente Fuente OpusX shipments for a time and creating the Arturo Fuente Añejo, which has a similar blend but a Connecticut broadleaf wrapper.
Despite all the crises that could have derailed the company at many steps along the way, Fuente has emerged ever stronger.
It sits in a most unusual position in the cigar industry, having a combination of considerable size and critical acclaim, the production of a huge company but the soul of a boutique producer. It has a store in Las Vegas—Casa Fuente, owned by Fuente, Levin and Michael Frey—dedicated solely to cigars made by the company. There, devotees can find special Fuentes not sold elsewhere.
You must be logged in to post a comment.
Log In If You're Already Registered At Cigar Aficionado Online