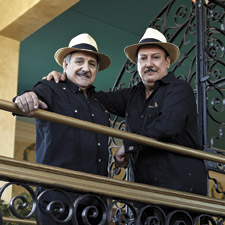 Carlos Fuente Sr. and Carlos Fuente Jr., the cigarmaking team behind the brand.
One Hundred Years of Fuente
As the Arturo Fuente brand turns 100 this year, the family dynasty commemorates its many triumphs, always remembering that the road to success presented challenge after challenge
(continued from page 3)
"We started and struggled, and worked very hard," says Fuente Jr.
"We worked and worked and struggled. We were working 18 hours a day, growing the company again." Says his father, "When I first started in Dominican, all our profit, we stuck it back. All our profit was always invested in tobacco. And aged tobacco is the most important thing that you can have. We always had a lot of aged tobacco. And as we started aging more and more, we started doing better."
"As far as I know, they have the biggest inventory of tobacco in the business," says Robert Levin, owner of Ashton Distributors. "When they find good tobacco, they buy it—even if they don't have a home for it. Because good tobacco is good tobacco."
The first Dominican Fuente cigars to catch people's attention were Hemingways, created in the mid 1980s. Aside from some pyramids, "there were no shaped cigars in the market" at the time, says Fuente Jr. He found old cigar molds and crafted a medium-bodied and flavorful blend. The diminutive Short Story, measuring all of four inches long, was an instant hit. "One of our biggest sellers," says Fuente Sr.
Fuente Jr. has always respected history and learned by listening to his father, grandfather and many other cigarmakers who came before him. He scowled at the plain packaging and two-color cigar bands that were prevalent in the downtimes of the cigar industry, and sought to enliven his products. "I wanted to bring back the old things—not only the shapes and the romance, the things that were not popular anymore, but also the art and the history," he says. The bands that adorn Fuente's cigars, particularly that of its Fuente Fuente OpusX, are ornate, elaborate things, with several varieties of gold ink and rich textures.
The cigar was created after an offhand remark made by a visiting tobacconist in 1988. "You don't produce a cigar," he said to the Fuentes, "you assemble a cigar." He was referring to the factory's use of imported tobaccos rather than relying on all local leaf. The observation made Fuente Jr. want to grow wrapper tobacco in the Dominican Republic, something that had cost other cigar companies millions in failed attempts.
"I thought he was crazy at first," says Fuente Sr. The project got off to a slow start, and the first harvest was unsuccessful.
"When it rained, we couldn't get in or out," says Fuente Jr. "My dad had a four-wheel drive—it got stuck. Before you know it the frame of the car was touching the ground. We had to get a John Deere to pull it out. My father had mud up to his knees, and I did too. My father said, 'Unless you build a road here I'm not coming back again. I'm a cigarmaker, I'm not a farmer.' "
They built roads. And curing barns. And gazebos. And more. Today Chateau de la Fuente is as gorgeous a tobacco farm as you will ever see, with painted rocks, flowers and royal palm trees poking up through the cheesecloth shade that covers acre after acre. The dark, Cuban-seed tobacco grown on this land covers Fuente Fuente OpusX cigars, the company's most acclaimed brand. When launched in November 1995, the cigars sold out immediately and had to be limited to only a couple per customer even while it sold only in the eastern part of the United States. A January 1996 vertical brand tasting in Cigar Insider awarded the brand four scores in the 90s, including a 94-point score for the PerfecXion No. 2, a pyramid. The high scores continue to this day. In 2005 the Fuente Fuente OpusX Double Corona was named Cigar Aficionado's Cigar of the Year, and in 2010 the XXX Belicoso was the No. 3 Cigar of the Year.
The Fuente Fuente OpusX reflected Fuente Jr.'s taste for powerhouse cigars and almost single-handedly ushered in a move to stronger smokes among cigar connoisseurs in the United States. Fuente continued that trend with the creation of the high-octane Ashton Virgin Sun Grown (or VSG) in 1999, which became the next big thing in powerful smokes.
You must be logged in to post a comment.
Log In If You're Already Registered At Cigar Aficionado Online