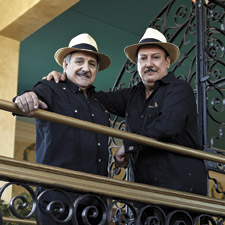 Carlos Fuente Sr. and Carlos Fuente Jr., the cigarmaking team behind the brand.
One Hundred Years of Fuente
As the Arturo Fuente brand turns 100 this year, the family dynasty commemorates its many triumphs, always remembering that the road to success presented challenge after challenge
(continued from page 2)
Fuente was but a local business in the 1950s. Every cigar that the tiny factory made was sold in the Tampa area, and strictly for cash. "My father just wanted enough business to be comfortable," says Fuente Sr. "You want a box of cigars, you had to show him the green stuff."
Arturo had intended for his oldest son, Arturo Jr., to take over, but it was Fuente Sr. who spent the most time around cigars. "My father came to me and said, 'You want the business?' I said, 'Sure I want the business. If I take it, I'm going to make this thing grow.' " In 1958 Fuente Sr. bought the company for $1. It had assets of $1,161 with zero debt and was making only a few thousand cigars a year. Yet he made one pledge: "I said to my father, 'As long as you live, as long as I make a dollar, you will make a dollar.' "
Fuente Sr. set his mind on expansion, which meant selling cigars on credit. He began by expanding to other parts of Florida, then New York City, focusing on markets with a strong Latin community. As sales grew, he added employees, but times were still lean. He was living in his parents' house, which still served as the factory, and Arturo remained part of the business. As it grew, cigarmaking would expand into more rooms in the house, forcing the Fuentes to move their furniture to the street each day to create temporary workspace.
Growing was difficult, as cigar smokers of the era weren't looking for the next new thing. "In the old days, people were very brand true. Brand loyal. People smoked Bering, Perfecto Garcia," says Fuente Sr.
Help came in the form of political policy—the U.S. Embargo on Cuba of 1962, which forced every cigar producer in the United States to change its recipe for making cigars.
"I feel the embargo put everybody level. People had to shop around to find a different taste that they liked. We started growing more and more in those days," says Fuente Sr. He sourced tobacco from such new regions as Puerto Rico and Colombia. Then he used his skills as a blender to try to emulate what he had done before, creating a taste that appealed to the smokers who could no longer find their Clear Havanas.
One of the things that helped Fuente was that it did not announce its transition to making cigars without Cuban leaf after the supply finally ran out. (The company had stockpiled enough tobacco to make cigars with Cuban leaf for three years after the embargo began, tobacco that it reserved for the Arturo Fuente brand.) "When the people asked me does it have any Cuban tobacco I would say no, but I never advertised it. I didn't make a mistake like other manufacturers did."
Arturo Fuente died in 1973 at the age of 85. It was a tough time for the cigar business. Rising costs of labor meant it was difficult to roll by hand in the United States, and the company's biggest sales came from machine-made cigars, with brand names such as Moya and Trinidad, rather than the handmade Arturo Fuente. "Fuente was small production," says Fuente Jr. "We sold some, but very little."
Finding rollers in Ybor was difficult, so Fuente attempted to make cigars in Mexico and Puerto Rico, with lackluster results. Then Fuente Sr. met a cigarmaker in Nicaragua with a large inventory of superb smokes. Impressed, he bought all the cigars, then invested in the factory. The business was soaring until Nicaragua fell apart in revolution, and the factory was burned to the ground in 1979. "We lost everything in Estelí [Nicaragua]," says Fuente Jr.
Out of money, the Fuentes sat down with three options: sell the family business, leave handmades behind or move to a new country. Fuente Sr. couldn't do it alone—he needed his son. "I told him I'm broke," he says. Fuente Jr. put in what cash he had, and Fuente Sr. mortgaged his house, cashed in his insurance and convinced his wife to leave a life of comfort for a land of challenges. They were moving to the Dominican Republic.
Today Santiago, Dominican Republic, is the gem of the cigar world, teeming with modern amenities. Thirty years ago it was quite different. "The bread was like rocks, toilet paper was like sandpaper. We used to travel there and bring Pampers for the baby, bring sugar. Bring all the things we missed from home," remembers Fuente Jr. "We didn't have a phone," says Cynthia Fuente-Suarez. "One phone for the neighborhood." There were times when the Dominican Republic looked as if it might go the route of Nicaragua, but stability returned, and the country proved the ideal base for the Fuentes to show the world what they could do with cigars.
You must be logged in to post a comment.
Log In If You're Already Registered At Cigar Aficionado Online