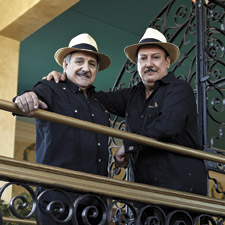 Carlos Fuente Sr. and Carlos Fuente Jr., the cigarmaking team behind the brand.
One Hundred Years of Fuente
As the Arturo Fuente brand turns 100 this year, the family dynasty commemorates its many triumphs, always remembering that the road to success presented challenge after challenge
(continued from page 1)
"I have a terrific amount of admiration for these guys," says John Oliva Sr., the president of Oliva Tobacco Co., one of the world's foremost cigar tobacco companies. Oliva has known the Fuentes for more than 40 years. "I have never, never seen anybody that's a harder worker than Carlos Fuente Sr. His integrity is unbelievable. And Fuente Jr.: the apple don't fall far from the tree."
Chuck Levi, owner of Iwan Ries in Chicago, a 155-year-old cigar store, says Fuente is always among his 10 best-selling cigar brands. "They make a phenomenal product at a very reasonable price," he says. The Fuente sales statistics are echoed in annual surveys of American cigar shops by Cigar Insider, the twice-monthly newsletter published by Cigar Aficionado, where Fuente has traditionally placed at or near the top of its ranking of best-selling premium cigar brands.
But the road to the top was long and hard, with the outcome often in doubt. The story began in 1912, the same year the Red Sox first took the field at Fenway Park and the North Atlantic swallowed the Titanic. A 24-year-old Cuban named Arturo Fuente opened a three-story wooden cigar factory called A. Fuente & Co. in West Tampa, Florida. Ten years prior, Fuente had come to Key West from the town of Güines, Cuba. Like hundreds of thousands of immigrants who came to America that year, he sought refuge from his homeland, which was struggling in the wake of the Spanish-American War.
The midsize cigar factory was not unusual in any way. At the time, Tampa had some 200 of them, making hundreds of millions of cigars every year, all from Cuban tobacco leaves, all by hand. Fuente had a promising start. By 1924, he'd incorporated and had shareholders and 500 employees to look after. But during a tobacco-buying trip he made to Cuba late that year, his cigar factory burned to the ground. The young businessman was underinsured, and lacked the funds to rebuild. Production of the Arturo Fuente brand ceased. Arturo moved to Chicago, but soon returned to Florida, this time to Ybor City, a short drive east from West Tampa. Ybor, a community made up of Cubans, Italians and Spanish, had row after row of casitas, little houses with tin roofs, covered porches and screened windows. Avocado and mango trees grew in the backyards and everyone in the neighborhood was connected to the cigar business, for Ybor was the cigar capital of the United States.
In 1946, Arturo set out once again to make cigars under his name. Stung by the lean years of the Great Depression and cowed by his losses in his original venture, this time he was far more cautious. The new Arturo Fuente Cigar Factory began as nothing more than a few rolling stations on the 10-foot-by-16-foot back porch of his Ybor City home. Arturo and his young wife, Christina, rolled cigars during the day along with a few other workers, and at night Christina would move to the kitchen to make hearty Cuban meals and pot after pot of sweet, bracing Cuban coffee as payment for the family members and friends who would come by to dine, converse and make cigars after leaving their full-time jobs.
"My father rolled, my mother rolled, my sister rolled—it used to be just the family," says Fuente Sr. "I never saw my father without a cigar. He used to smoke about 25 cigars a day. He would go to sleep, and the cigar would fall, and my mother would put it next to the night table. My father would get up in the morning, pick up the cigar, and put it in his mouth."
Fuente Sr. was 11 when his father turned their back porch into a cigar factory, and he grew up as part of the business, first sweeping floors then learning how to roll. He and his brother, Arturo Jr., had to make 50 cigars each every day when they returned home from school.
"I've been working since I was eight years old. From selling fruits in the street, shining shoes, I've done about anything you can think of," he says. "When I was 14, 15 years old I used to have two jobs. I used to go to school, I used to get up to deliver papers, and after school I used to be at work until 11 at night in the drugstore. I've always loved to work." Arturo was nearing 60 when he embarked on his second venture making cigars, and Fuente Sr. would pitch in to help his father. "I never wanted to see my father, as old as he was, working the way he did," he says.
A fighter from an early age, Fuente Sr. contracted polio before his 12th birthday, and the disease left him in quarantine and unable to walk. His father encouraged him to fight, to believe, and it took several years, but Fuente Sr. regained the ability to walk normally. By 18, he was married. The same legendary work ethic that drove him to walk again once fueled him to spend three weeks straight working in his factory. His bride simply moved in with him, their young son in tow.
"I never went to college, I never went to high school," he says, yet he kept the books of his cigar company up until 2005, with the help of his daughter, Cynthia Fuente-Suarez. He built his own home, installed the plumbing in one of his original cigar factories and even completed the wiring when an electrician he had hired for the barter price of three bottles of whisky took early payment and was too drunk to complete the job.
"He does the work of five people alone," says Sathya Levin, vice president of Ashton Distributors Inc. Fuente, which owns a minority interest in Ashton, makes every Ashton cigar, and when Levin was 16, he spent a month with Fuente Sr. to learn the cigar business. "He's hardworking, dedicated, loyal and passionate. When it comes to the cigar business, the guy's a genius."
Fuente Sr. married Ana Lopez (they recently celebrated their 58th anniversary) and because the family cigar business wasn't lucrative enough to support him with a salary, he took a job as a baker. When he left the bakery to work full time at Fuente, he was paid only $40 a week. His wife made another $40 working at a different cigar factory. But their salaries combined still left them broke at the end of each week, and Ana would sometimes skip lunch so the family could go to a movie.
You must be logged in to post a comment.
Log In If You're Already Registered At Cigar Aficionado Online