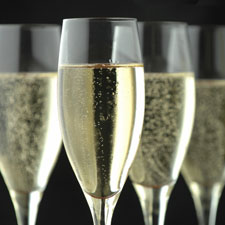 Blending in with Champagne
Alison Napjus
Posted: December 30, 2011
(continued from page 3)
Crisp and juicy, with a pretty floral note winding through flavors of Fuji apple, apricot, anise and candied orange peel.
JACQUART
Brut Champagne Mosaïque NV
90 points, $37
More about its fine texture and balance than its flavor, this wine still offers hints of Gala apple, citrus peel and smoke
PHILIPPONNAT
Brut Rosé Champagne Réserve NV
90 points, $32
Lightly toasty, this balanced rosé shows creamy hints of black raspberry, strawberry, licorice and spice, with tangy acidity.
Alison Napjus is a senior tasting coordinator for Cigar Aficionado's sister publication Wine Spectator. She specializes in the Champagne region of France. For more on the current crop of its sparkling wines visit winespectator.com
You must be logged in to post a comment.
Log In If You're Already Registered At Cigar Aficionado Online