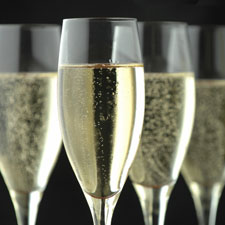 Blending in with Champagne
Alison Napjus
Posted: December 30, 2011
(continued from page 2)
Very harmonious, this is full of dried apricot, orange peel, nut and smoke flavors, but still elegant and light-weight.
BEAUCHAMP
Brut Rosé Champagne Carte Rubis NV
91 points, $38
Ripe blackberry, black cherry and currant flavors mix in this dry, creamy, very refined rosé.
GUY CHARLEMAGNE
Extra Brut Champagne NV
91 point, $35
Crisp, with a stony mineral undertow to notes of pippin apple, lemon zest, ginger and smoke. Lightly juicy and well-focused.
DUC DE ROME
Brut Champagne Prestige NV
91 points, $36
Balances lightly chalky acidity and finely tuned texture with focused flavors of orange peel and quince paste, with creamy minerality.
LAURENT-PERRIER
Brut Champagne L-P NV
91 points, $40
Refined, with a sweet, smoky undercurrent to the flavors of glazed pear, candied lemon zest and golden raisin.
MONTAUDON
Brut Champagne NV
91 points, $35
You must be logged in to post a comment.
Log In If You're Already Registered At Cigar Aficionado Online