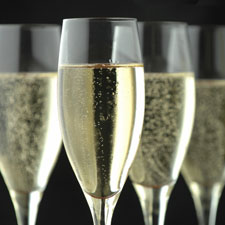 Blending in with Champagne
Alison Napjus
Posted: December 30, 2011
While vintage Champagnes are often the darling wines for revelers who go shopping to ring in the New Year, this year non-vintage blends offer great opportunities—especially for last minute shoppers on a budget.
That's because many of the non-vintage Champagnes now available at retail and in restaurants are based primarily on blending two outstanding vintages—2006 and 2008—with the variable wines of 2007.
And the promise of marrying such good vintages has  realized exemplary results. Eighty-seven percent of the more than 230 non-vintage (or NV) Champagnes recently reviewed in Wine Spectator scored 90 points or more. Of those wines, several were notable for their balance and refined textures, often offering good value for such high quality.
On the heels of Krug's 95-point, non-vintage wines, Gosset stands out for its Extra Brut Blanc de Blancs Celebris NV (94, $208), a beautiful Champagne with fine definition and detail. At just a notch below, 10 wines in the non-vintage category received scores of 93 points, representing a mix of different styles—brut, brut blanc de blancs and brut rosé—and a variety of houses: Henri Billiot & Fils, Bollinger, Diebolt-Vallois, Alfred Gratien, Charles Heidsieck, Henriot, Jean Laurent and Piper-Heidsieck.
Among these estates, Henriot made a particularly well-priced bubbly, the fresh and juicy Brut Souverain NV ($50), while sister-houses Piper-Heidsieck and Charles Heidsieck delivered a one-two punch with the former's vinous Brut Rosé Sauvage NV and the latter's finely woven Brut Réserve NV, both at $55.
Other terrific values include two bottlings available for less than $40, the focused Brut Blanc de Blancs Réserve NV from Guy Charlemagne (92, $39) and the creamy Brut NV from Nicolas Feuillatte (92, $36). Also worth searching for are Ayala's Brut Majeur NV (92, $40), firm and minerally, and G.H. Mumm's rich, flavorful Brut Cordon Rouge NV (92, $40).
Here are my picks for non-vintages Champagnes that not only have great taste, but extreme bang for the buck:
CHARLES HEIDSIECK
Brut Champagne Réserve NV
93 points in Wine Spectator, $55
This elegant Champagne seamlessly weaves together its elements, with rich flavors of toast, patisserie fruit and lemon zest.
HENRIOT
Brut Champagne Souverain NV
93 points, $50
You must be logged in to post a comment.
Log In If You're Already Registered At Cigar Aficionado Online