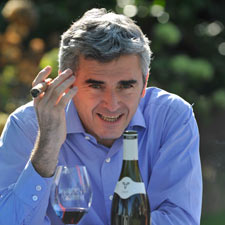 Franck Duboeuf at his winery in Romanèche-Thorins, France.
A Cigar With Beaujolais Star Franck Duboeuf
(continued from page 2)
The aroma from the glass is coming up at me with surprising enthusiasm. It's a vivid magenta and the esters are stronger on this Beaujolais Nouveau than I remember. Or maybe my nose is just sharper than usual this particular afternoon. I look up to ask him if the wine is bolder this year, but he is suddenly called away, ushered at the elbow by an events planner.
As his father attends fewer events, Franck's presence is in higher demand and he's becoming more visible as Duboeuf's brand ambassador. Today's party is actually the second event he's done within nine hours. Last night, as the clock struck 12, there was a midnight uncorking celebration that went until nearly 3 a.m.
Before Duboeuf disappears into the crowd, he manages to thank me once again for the cigar.
"Cigars in Paris are so expensive," he says in French-accented English. He holds up the smoke. "This is superb."
A canvas hangs on display with some more amoebic-looking mock graffiti. I think of the old spray-painted subway cars of 30 years ago that you don't see anymore. I think of President Jimmy Carter's media visit to the South Bronx in 1977 and Reagan's in '80 and the backdrop of crumbling, spray-painted buildings.
Behind the artwork here on the fringes of the party set, a chalkboard wall invites guests of this celebration to further participate by etching in a graffiti message of their own. Beaujolais Nouveau was here.
Comments
1 comment(s)
C — November 22, 2011 10:56pm ET
---
You must be logged in to post a comment.
Log In If You're Already Registered At Cigar Aficionado Online